Hair Care Product News

Hair Care Product and Beauty News
Hair care product news that I've picked up on my travels. Everyday I end up seeing all sorts of hair care product news and hype from manufacturers. Much of it is not worth passing along, but here are three hair care products that are worth paying attention to.
Redken's New Straightening Hair Spray
Redken Iron Silk 07 Hair Spray
Redken has just released their latest and greatest, a new hair care product called, Iron Silk 07 Ultra-Straightening Spray
. This is great news for all flat-iron addicts like me.
Redken, promises that Iron Silk 07, will not only protect, but strengthen strands, give hair shine and best of all . . . it leaves hair smooth, with no stiff feel! That is amazing considering most straightening sprays I've tried always seem to leave the hair stiff as a board and then you have to run your fingers through strands to soften them. If you use a flat-iron daily, I strongly suggest using a heat protectant product and I don't know about you, but I'm trying this one next!
Redken was voted "Best Overall Professional Products Company," last year by hairdressers at the hairdresser Choice Awards, which is why I am always following the most up-to-the-minute news from Redken. For a complete list of products picked as favorites at this years, hairdresser Choice Awards.
L'Oreal's New Color Breakthrough
L'Oreal Releasing a No-Ammonia, No-Odor Color Line!
Good news for those who  have an aversion to chemicals in hair color! L'Oreal  has just announced their new innovative line of hair color that has no ammonia, and no odor! This new hair color line, called INOA, which stands for "Innovation No Ammonia," is revolutionary because it is a permanent hair color line, which will cover gray but contains no ammonia!
So what does this all mean for you? No ammonia means less damage for your hair and scalp and no odor means . . . well, no odor. Ammonia is a toxin and many people have an aversion to it's use, such as itchy scalp. It also does damage to the hair, but its use in hair color has been successful for covering gray, so it's use has been prevalent.
L'Oreal's  new INOA color line will have 50 colors to choose from initially! This hair care product line is for professional use only, so you won't be able to go pick this up at the drugstore. But . . . ask your hairdressers to give it a try if you have a serious aversion to any chemicals. This truly is a breakthrough in hair color technology and has "success" written all over it as long as it can deliver the goods!. INOA is set to debut in the United States in January of 2010.
New Products from TIGI Rockaholic Line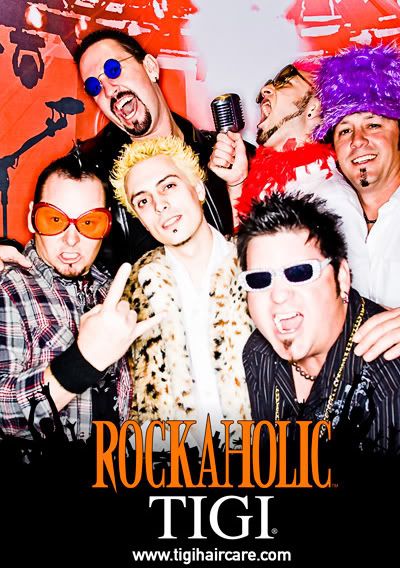 TIGI Rockaholic Groupie Spray Pomade
As you may or may not know, TIGI was voted 'Favorite Overall Hair Care Products Company' at the 2009 hairdresser Choice Awards. Their product, TIGI Rockaholic Dirty Secret, was also a hairdresser's favorite, getting voted 'Favorite New Styling Product'. Well readers, TIGI has added to their fabulous Rockaholic line by giving us three new products; Way Out Super Hair Glue (a super hard hold gel for Mohawks, etc.), Groupie Texturizing Spray Pomade (an innovative new product to replace traditional pomades) and All Access Go Anywhere Shampoo Bar (which is literally a bar of shampoo).
The Groupie Texturizing Spray Pomade
, is a fun new texturizing product that I am dying to try. I have yet to see a spray pomade hair care product and I think this would be a great tool in getting pomade onto hair without overdoing it. If you are currently using pomade to style your hair, give this product a go-around and see what you think. I think you'll like not getting the 'goop' on your fingers and under your fingernails and being able to apply the pomade with a lighter touch.
Save this page to:
del.icio.us
-
Digg it
-
Yahoo MyWeb