What hair color skin tone?

What hair color skin tone can I wear?
Toni asks,
Just wondering, my eyes are green (like cat green). I can wear many colors. It is hard to tell my vein color because I am tan. My natural hair color is light brown but the sun gives it a golden cast which I hate. Can I wear beige blondes or platinum high lights??
Sounds like you lean towards warm coloring with (cat) green eyes, light golden brown hair and sporting a tan . . . lucky you!
"Hair Color
Skin Tone"In my opinion skin tone is the most significant factor to consider when looking for a hair color that is genuinely flattering for you. I use the word 'genuinely,' assuming that you are looking for a hair color that appears more authentic than not.
If your skin tone is more tan than pink I think a beautiful hair color for you would be like this picture of Hayden Panettiere. Hayden has been noted for her stunning 'cat green eyes' and in this picture her skin tone is tan.
This hair color on Hayden has multiple tones of blonde high lights, including a darker blonde base that is probably her natural tone. This is my favorite hair color on Hayden; it compliments her tan skin tone and warms up her overall coloring.
Hayden Panettiere – multi-tonal blondes and darker base
In the picture below we see Hayden's natural skin tone which is lighter with pink undertones. Her hair color here has more gold (warmth) to it and is not as flattering with her skin tone coloring, in my opinion.
Hayden Panettiere – golden blonde hair color skin tone
The picture below shows lots of cool blonde hair color tones, better than the golden blonde but not my favorite . . . a bit too light.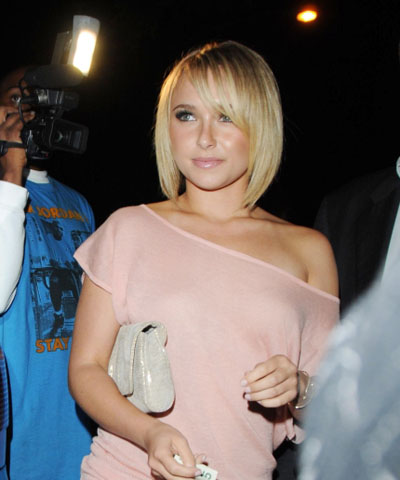 Hayden Panettiere – light cool blonde tones hair color skin tone
I also think Hayden would look great in a strawberry blonde color, which would make her green eyes pop even more!
Save this page to:
del.icio.us
-
Digg it
-
Yahoo MyWeb