Hair News Round-Up November
Considering a Hair Stylist Job?
Here is a fun way of getting the low-down on what's-up with a beauty school! You can follow a student on her way to becoming a hairdresser through her weekly blog as she experiences the day to day stuff of beauty school.  Grant it, not all beauty schools are the same and the Paul Mitchell School she attends called The Cao Institute in Alhambra, CA. Seems pretty progressive, but, they all need to have students pass their State Board Exams at the end of their stay and the exams are basically the same.
So if you're on the fence of whether or not hairdresser jobs are right for you, here's a place you can get some inside/real-time information on what you might expect at beauty school. Here you can follow Hanna Compton, as she blogs weekly about her thoughts and experiences in beauty school.
I've found her (firsts) experiences, first hair coloring, first color removal, first male client, etc. is warmly familiar and brings back memories of my days in beauty school. She gives you a feel for what to expect and how beauty school goes about training to become a licensed hairdresser. She has lots of enthusiasm for the business and is sure to give you a push towards taking the plunge if you are so inclined. She just finished her 10th week and should have about 26 weeks left to go so lots of experiences yet to be shared!  This is a good read if you're considering a hairdresser job.
Pre-Launch Press Release for Salon/Spa Industry H1N1 Best Practices
King Research and The Professional Beauty Association are working together to release an industry response that addresses the H1N1 influenza virus. King Research is the maker of Barbicide, which is widely used in the hair salon/spa industry for sanitation and disinfection purposes.
I spoke with Alan Murphy, president of Kings Research last week and he said we can expect an 'online toolkit' probably sometime this week. The tool kit will be a dedicated site that will have information and resources specifically geared towards the hair salon/spa environment. They will also announce a webinar on salon/spa sanitation and disinfection best practices and several workshops during the International Salon & Spa Expo in Long Beach, California January 30 – February 1, 2010.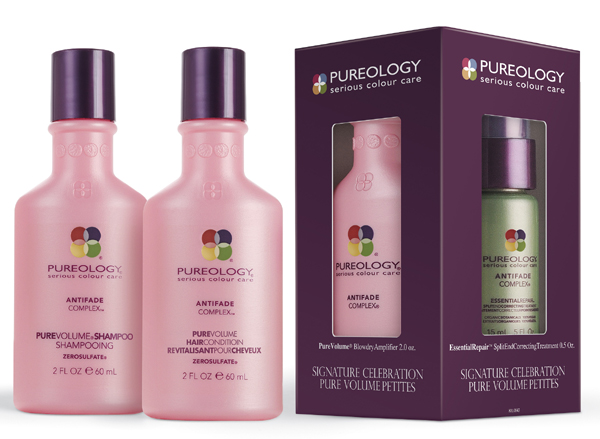 Holiday Stocking Stuffer
PureOlogy products have made "The Best Hair Care Products" lists in the last few years voted in at the hairdresser Choice Awards. This year brings a little extra added cheer to someone's 'big hair dreams' by wrapping up this package. PureOlogy's Pure Volume Stocking Stuffers includes 2 oz. bottles of PureVolume Shampoo, Condition and BlowDryAmplifier, along with EssentialRepair SplitEndCorrecting Treatment. Get it for $21.00 at a salon near you. Find a salon at the PureOlogy website.
[raw]
Barb Quinn on Google+  


[/raw]
Save this page to:
del.icio.us
-
Digg it
-
Yahoo MyWeb