Celebrity Bangs at Oscars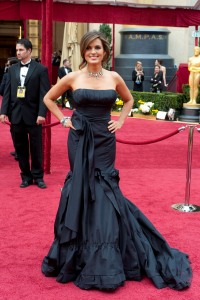 Celebrity bangs at the Oscars in the minority!
"Oscars Celebrity Bangs"Celebrity bangs at the Oscars were pretty much a rarity. Most of the celebrity nominees were spotted with updos where the top of their hair had a soft pompadour swept back look or was slicked back tightly into varying types of buns. But for those who did wear bangs, the side swept bang out weighed other bang hairstyles by far!
Straight Bangs
Straight bangs are worn slightly different on these celebrities at this years Oscars. Mollies straight bangs are actually a touch longer in the middle, Suzanne's are typically straight and Natalie's straight bangs are combined with big curls.
Molly Ringwald's straight bangs and blunt cut- great on her!
Molly Ringwald wore the classic blunt-cut bangs and bob-combo beautifully! The deep mahogany hair color with her skin tone and jewel-toned dress was edgy!
Suzanne Somers straight bang
Suzanne Somers has a solid blunt bang with long face framing layers. Suzanne needs more of a hairstyle change than this to look edgy. She has worn her hair so similar for so many years, that just flat-ironing it doesn't make it new!
Natalie Mark with Sam Worthington full straight bang
Natalie Mark pairs up straight bangs and curls. Wearing long hair over one shoulder was also a fashion statement at this years Oscars!
Carey Mulligan
Carey Mulligan's pixie cut works great with her petite stature and oval face shape. Don't try this hairstyle if you've been told you have a round or square face shape. The solid bangs on this hairstyle gives this cut its own signature!
Side Swept Bangs
Side swept bangs are worn some ways by these celebrities; straight, slightly curled, longer or shorter!
Meryl Streep softside swept bangs
Helen Mirren fuller side swept bang
Sigourney Weaver longer side swept bang
Christina Hendricks side swept bangs with long layers
Hillary Swank side swept bangs with layered haircut
Gabourey Sidibe side swept curled bangs
[raw]
Barb Quinn on Google+  


[/raw]
No Comments »
No comments yet.
RSS feed for comments on this post. TrackBack URI
Leave a comment