Celebrity Hairstyle News November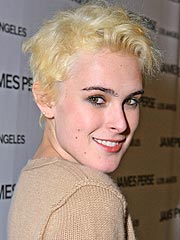 Here are some celebrity hairstyling, beauty and fashion articles that you might have missed recently
Rumer Willis blows it by forgetting the eyebrows ~~ Rumer Willis daughter of Demi Moore and Bruce Willis and step dad Ashton Kutcher goes platinum. But what was her hairdresser Tracey Cunningham at the Neil George Salon in Beverly Hills thinking, letting her walk out after 7 hours worth of work with these eyebrows. Those of you who are regular readers know from my previous articles on this subject how to prevent your self from looking like a freak show when  making a major swing in hair colors. The blame here certainly has to be put on the hairdresser as most clients are usually not thinking about subtle things like eyebrows in obtaining a great new look.

The Model Eyebrow by Elke von Freudenberg ~~ Speaking of eyebrows, the adults in Rumer Willis's life should of read this wonderful article from my fellow Glam blogger Shannon from the Makeup Minute. This is a really complete how-to from one of the top celebrity makeup artists. Elke has a great tip on how to pluck your eyebrows without all of the pain.
How To Get Michelle Pfeiffer's New Hairstyle ~~ Michelle Pfeiffer showed up at the premier for her latest movie "Stardust" with stunning new hairstyle with soft waves. I'm glad to see her kicking up her hairstyling a notch, her hairstyles have been less than inspiring of late. Exit Salon hairdresser Monique Bisson was interviewed by Canadian Canoe Media and has a great step by step on how to style this latest hairstyle of Michelle Pfeiffer.
[raw]
Barb Quinn on Google+  


[/raw]
No Comments »
No comments yet.
RSS feed for comments on this post. TrackBack URI
Leave a comment