Celebrity Hairstyles: Want to get Noticed? Change Your Hairstyle!

Celebrity hairstyles change and they get noticed!
Celebrity hairstyles may seem to change more quickly than most, but I'm not sure that's true. One thing is true however with celebrity hairstyles changes and that is that their changes are usually very timely. Producers and agents know well that by simply changing their celebrities hairstyles in some way before an opening, they will draw lots of attention resulting in lots of free publicity!
"Celebrity Hairstyles"Katherine Heigl is our most recent star falling into that celebrity hairstyles trend. Katherine showed up at the premiere for her new movie, "The Ugly Truth," due to be released on July 24th, with a new auburn hair color and a shorter hairstyle! She did a double whammy!  Besides having a new auburn hair color her hair was cut into a shorter bob. The short bob was not noticeable at the premiere because she wore it in an updo that evening.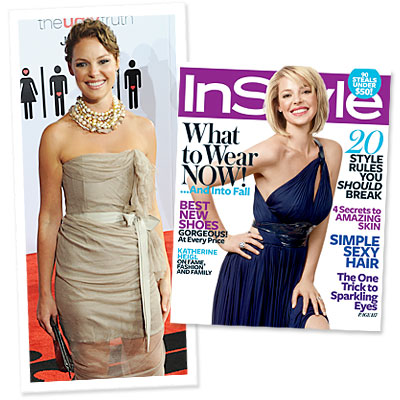 Katherine Heigl's New Hair Color Works for Most People!
I like this hair color change on Katherine Heigl, it suits her skin tone and eye color well. Celebrity hairdresser, Kim Vo, changed Katherine's look and says it is a,"goof proof color" if you want to try it at home. He adds, "Reds naturally come out of your hair color, so no worries formulating! Add anything with a warm hue which will help bring out the skin color. You should look for a warm chocolate auburn brown. You should also look for browns that have "natural warmth" written on the bottle. For example, L'Oreal 5NW."
I think watching celebrity hairstyles change, can be a good inspiration for the rest of us. Katherine Heigl's hair color and hairstyle change is a good one for her. A funny thing about auburn hair color . . . I have found that most women who look good in blonde hair can transition easily into an auburn hair color. The beauty of the color auburn is that it is a mix of red and brown and can be formulated lighter or darker, warmer or cooler.
I do think Kim Vo was a bit quick in saying this is a "goof proof color." Your base color needs to be taken into consideration as well as your skin tone before throwing a box of color on your hair. Look on the back of the box and use their chart of hair colors, to determine what shade you need to go with to get your desired end result.
So what hair colors can you wear? Take this questionnaire to find out your skin tone;
There is more here on what hair colors to look for and what hair colors to stay away from with your skin tone and eye color;
No Comments »
No comments yet.
RSS feed for comments on this post. TrackBack URI
Leave a comment