Curly Hair, Can I Wear a Short Curly Hair Style?
.
Long Curly Hair Style Delima
Natasha asks;
| | | |
| --- | --- | --- |
| " | Hi, I have very curly hair and always end up putting it up in a bobble as I find it too irritating. I am desperately trying to find a haircut that will suit my curly hair. I have below shoulder length hair at the moment and want to go short. Have you any advice on how short I could cut it before looking stupid? | ,, |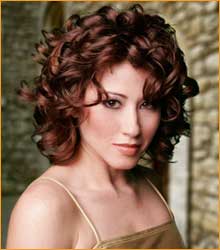 Sarah Hamilton answers;
"Curly Hair Style Options"If your natural curly hair is tight or in ringlets, it may be best to keep your hair cut about shoulder length. Adding some long layers to the hair will draw the curls down to make them appear looser and freer flowing. Make sure your hairdresser creates texture to break up your curls; this will create a more 'airy' look to the hair. Keeping the hair longer will avoid that triangular look that most curly haired women hate . . . you know the one that resembles a Christmas tree.

Some curly hair women may think going short is out of the question for them if their hair has a tight curl pattern to it. This short curly hair style on Meg Ryan busts that myth! To me what makes this a stylish, cute look on Meg, is that it's shaped well and her curls are defined, not frizzy looking. Although this hair style has a mussy, bed head look to it, don't let that fool you. The haircut is great and it has been styled into shape with product.

On the other hand, if your curly hair is on the loose side it would be best to go with a haircut a bit shorter, chin length or above, to allow the curls to spring up to create a fuller look to the hair. Ask your hairdresser about a short rounded layered look, this will also give the hair fullness and give you a complete makeover with a fun new hair style. A little side note for you, a side swept bang compliments a short layered haircut well!
Now that we covered the haircuts, styling the hair is just as important. Curly hair can be hard to tame so finding the correct short curly haircut to suite your style of curls is essential! It is also a good idea to research and test hair care products for your new do! Products are a curly hair girls (or boys) best friend! They help to make the curly hair more manageable and control that frizz that usually accompanies the curly hair. I would recommend buying a curl crème to put into the hair when wet, such as, TIGI's Curls Rock, and also a defrizzer or smoother to apply when the hair is dry or nearly dry like Paul Mitchell Super Skinny Serum.
If your natural curly hair is a looser curl try blow drying with a diffuser. The key to making the hair look frizz free when using a diffuser is to place the hair into the diffuser and simply leave it alone. The more you move and manipulate the hair, the more frizz you will get.
For pictures of great looks check out our Pinterest Curly Hairstyles and Wavy Hairstyles Boards.
No Comments »
No comments yet.
RSS feed for comments on this post.
Leave a comment