Emo Hair Styles of Another Kind

Think Twice Before Going In For Emo Hair Styles
What do you think of when you hear the description, "Emo Hair Style" as a new hairstyle look? Well let me tell you, the "emo hair style" I'm talking about here, is not the "emo hair style" anyone in their right mind should set out to wear.
"Get Input Before the Emo Hair Style"Ok, the "emo" description that I'm talking about, still refers to the same concept of the hairstyle originating with and being all about emotions, but in a different way.
Hairdressers have a front row seat in seeing this emotional drama play out in the lives of many clients. Why is it that time and time again when faced with some major stress in our lives, like a break-up or divorce, job loss, money problems, death of a loved one and so on, we tend to want to take it out on our hair? For some reason the underlying immediate resolve to these traumas seems to be almost universal in nature. That is, "if we drastically change our hair, all will be well."
We can make some pretty drastic decisions with our hair. He liked blond high lights, you decide now to go black. He loved your long hair . . . it must be time to cut it off. They were so stuffy at that job who needs them . . . I think I want pink high lights. I feel fat and I have so much hair . . . I think I just want to cut it all off! (That last resolve, by the way, is a hugely popular one for an emo hair style fix.)
There is a problem with this kind of thinking though, it's called a "quick fix." But it's usually the wrong fix to an emotional situation and sometimes it can't be so easily corrected either.
I love my job, especially when I can make a change for someone and know that it will look great on them and in turn, make them feel good about themselves. However, when someone comes in an emotional basket case and sits down in my chair and starts pulling out of their hat some horrendous idea, for a drastic new hairstyle change we need to do right now . . . whew, let's just say the red flags go up.
I really don't want them to leave looking worse than when they came in and I certainly don't want their unstable emotions switched towards me, because somehow I now have allowed them do this unflattering hairstyle. Then they think, "things weren't even that bad until I got this ridiculous haircut!"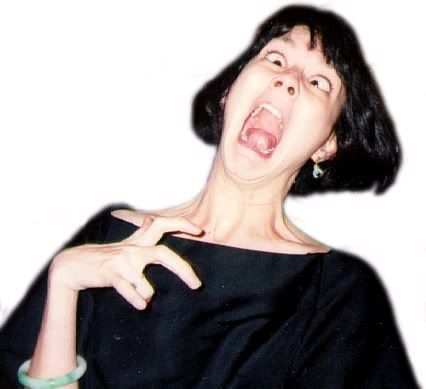 So the advice I want to convey from behind the chair is this; When you are not feeling good about yourself because of a situation and think a dramatic hairstyle change, color change, (emo hair style) will be your saving grace . . . slow down. Take a deep breath, maybe wait a few days and think of the reasons why you desire this particular change. A lot of times after the dust has settled and you have a clear head, you wished you wouldn't have cut it all off, or maybe drastically colored it in the first place.
Don't get me wrong, sometimes a change is just what you needed, but maybe you needed it after you have calmed down from your initial reaction to your situation. I'm all for change, but do it for the right reasons at the right time
[raw]
Barb Quinn on Google+  


[/raw]
No Comments »
No comments yet.
RSS feed for comments on this post. TrackBack URI
Leave a comment