Eva Longoria Short Hair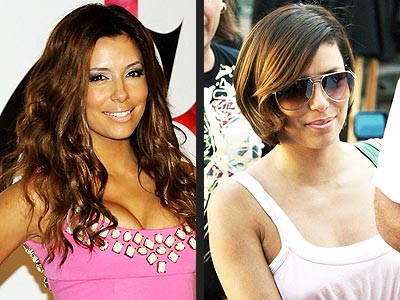 Do the Eva Longoria Short Hair Styles Mean a More Mature Look?
Apparently the producers of "Desperate Housewives" believe that cutting Eva Longoria's long hair and adding some poundage to her petite frame, will give Gabby an older, less voluptuous look, on this season's show.
Have you wondered if going for a short hair styles would make you look older, less attractive? If you've had long hair style for a while say, five years or more, cutting your hair short is a scary move to make. The longer we hold onto our long hair, the harder it is to let go of it. Our culture has an infatuation with long hair, linking it to youth, vitality, femininity, sexiness and glamour.
"Eva Longoria Short Hair, the Mom Look"
I'm slowly but surely realizing those pictures we've all seen of how the body evolves into bulkier versions of our former selves, is all too real. In some respects, a little meatier isn't all bad. After all, skinny older people just plain don't look very healthy, wouldn't you agree?
Besides Eva Longoria short hair and putting on some poundage this summer, (but she still looks good) she will be wearing butt and stomach pads to convince us of an older, aging, Mom who doesn't care about her appearance any more. Those PADS will be the most convincing elements of Eva Longoria's transformation to an old fuddy-dud, who has let herself go. Going for short hair styles doesn't equal an old, non-attractive Gabby. But cutting this amount of hair off does have a maturing effect on many women.
.
See for yourself, if cutting off six to eight inches on these celebrities doesn't add a somewhat more grown-up look to their appearance overall.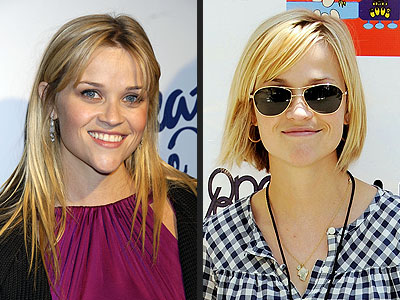 Reese really has a chameleon face shape somewhere between a strong heart face shape face and a strong square face shape. How so? It depends on what camera angle they catch her at and how she is smiling. I loved her long hair with
bangs
, but the bob short hair style does update her look and fits well with a fashionable "Mom" look.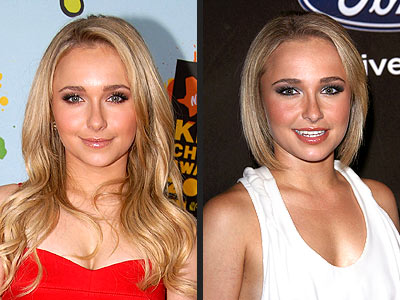 Hyden has an oval face shape with round tendencies. This straight bob short hair style looks too severe and pushes her more into the round face shape category. More layers and waves will soften the look and a diagonal part line with a bit of height at the crown, will elongate a round face shape.
.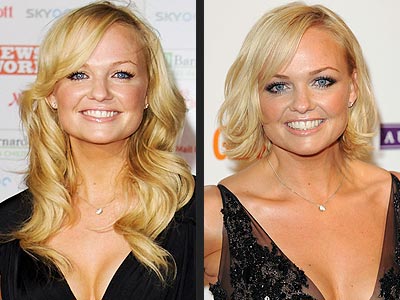 A side part with the asymmetrical look of one side tucked, works with her square face shape. But, it would look better if one side was left a bit longer for interest. She could also use a bit of lift at the crown to create an illusion of more length to the face.
For you ladies who want to keep your long hair into your senior years . . . not to worry. See some celebrities who show us the way to wear it long and wear it well in my recent article on long hair styles on older women.
3 Comments »
heyy well I'm getting my hair cut and my mom said i could go look on here at some hairstyles and i love the hair cuts on here but i have shorter hair.I had the bob and my mom tried to do it so she did it wrong and i looked like a boy for about a good 6months.but now my hair is down to my shoulders and i was looking at some of these hairstyles and they're soo cute!!!

Comment by hannah — April 20, 2010 @ 10:19 am

Eva Longoria can wear her hair short or long. Her fans will still love her. Her career will still be successful.

Comment by Tommy Phame — August 31, 2008 @ 6:22 pm

Nice info

Thanks

Comment by John — July 19, 2008 @ 7:20 pm
RSS feed for comments on this post.
Leave a comment