Getting Back to Your Natural Hair Color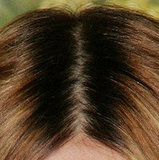 How to get Back to Your Natural Hair Color
A visitor to visual-makeover.com asks . . . "I colored my hair about 4 months ago and now I would like to go back to my natural color. Any advice?"
First of all you need to let your hair get some roots, anywhere between and 1.5″ to 2″ would be good. Your salon hair color uses numbers or levels of hair color. Most salon hair color brands go from 1-10 or 1-12. One being the darkest and ten being the lightest. If a customer wants her hair color correction lifted above a level 10 or 12 (depending on the brand), that has to be done with some type of hair bleaching product.
This doesn't concern you, since you want to go your natural hair color. The first thing that needs to be done is that your hairdresser needs to examine your roots to determine what your natural hair color level is. Then they need to determine what the level of the artificial hair color is. Now, here is the thing about hair color, that the boxes don't tell you about. If you have color on your hair and you want to go to a lighter color, you can't use hair coloring to lighten it because artificial hair color will not lift artificial hair color that is already on your hair.
Keep in mind that even if it has been four months since the last time you colored your hair, the chemical is still there. I hear this a lot from customers. "I haven't done it for a while so there isn't any in my hair." This is false, . . . hair color fades, just because the color fades does not mean the chemical washes out, it is still in the hair.
Even though you can't go lighter, you can however, go darker. Let me give you an example. The hair color product you have been using on your hair matches up with a level 6 (remember 1 is darkest 10 is lightest) and your natural hair color level matches up to a level 4. Therefore, you are going darker and this can be accomplished. Now, you need to ask your hairdresser if they can use a semi or demi permanent hair color. This type of hair color correction is a deposit only hair color that has no ammonia, no lifting and is not damaging to the hair. The only problem is it usually fades faster (about 6-8 weeks), but it is worth it because it is so much better for your hair.
Now, if you go into the hair salon and your natural hair color level is a level 6 and the hair color you have been using is naturally a level 3 then you are going to run into some problems. This means that you are going to have to go through and strip the artificial hair color off your hair and then deposit a color to match your natural hair color level. I don't like to have to strip hair color from clients' hair because it is very damaging (most of the time) and I have seen it cause major breakage.
For further discussion on hair color correction you might want to check out these other articles:
[raw]
Barb Quinn on Google+  


[/raw]
166 Comments »
RSS feed for comments on this post. TrackBack URI
Leave a comment