Hair and Beauty News From Around the Internet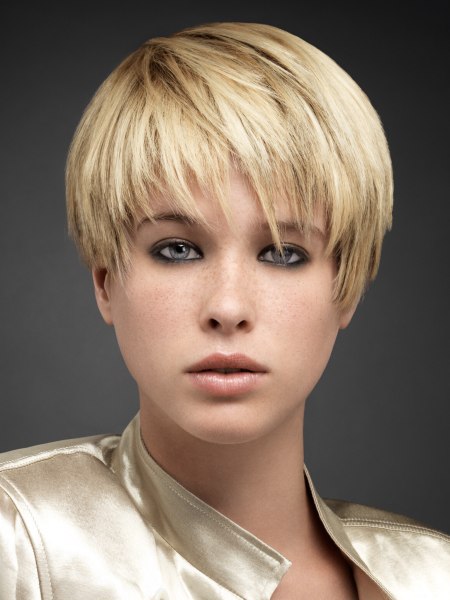 Hair and beauty news articles that you might have missed recently
Look for the short cropped bed head look like that pictured above to be hot this season. We've seen the likes of Vivienne Westwood, Kylie, Erin O'Connor, Sienna Miller, and Keira Knightley all sporting the look recently. The catwalk has seen the look on models from Moschino, Vivienne Westwood, Yves Saint Laurent and Hermés as well. The Graham Webb International team has some tips on how to create this stunning hairstyle.
Sunglasses Hut has a very good article on Choosing the Right Sunglasses for Your Face Shape. My regular readers already know how important face shape is to picking the right hairstyle for yourself. So it only makes sense to me that face shape should also play a really important role in what type of sunglasses shapes would look best on you. The article has recommendations for how to get the right fit plus individual frame style recommendations for the following face shapes:
Oval face shape

Round face shape

Diamond face shape

Square face shape

Triangular face shape
How to Open a Salon or Day Spa I know a lot of you regular readers are entrepreneurial types based upon the email I get whenever I write something relating to business opportunities in the hairstyle and beauty industries. So when I saw this long article in Entrepreneur.com I felt the need to pass it along. I read bits and pieces of the article and it appears to make it sound a whole lot easier than it really is. Running a profitable hair salon these days requires is not for slackers.
I must admit that I really don't keep up with the organic hair care product developments much but I happened to see this short piece over at my sister Glam sites SheFinds on How to Choose an Organic Shampoo. In it she lists lots of product recommendations for those of you who want to go Green with your hair care products.
[raw]
Barb Quinn on Google+  


[/raw]
No Comments »
No comments yet.
RSS feed for comments on this post. TrackBack URI
Leave a comment