Hair Braids, Hair Braids and More Hair Braids!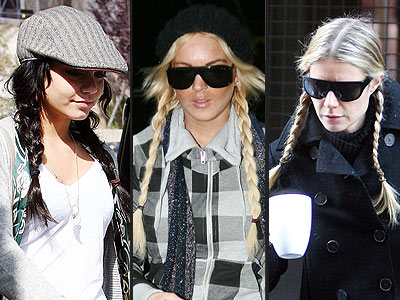 Pigtail  Braids and the Greek Goddess Braids
If you're looking for another quick-n-easy way to get that hair out of your face this summer . . . think  braids!  If you've never tried a braided  hairstyle you're in for a pleasant surprise and they can look especially cute with a hat! You can kill two birds with one stone, wearing the sporty look with braids by day and releasing them into sexy, wavy hair by night.
By the way, both of these products won hairdresser Choice Awards the last couple of years, see what other products won in my article on the hairdressers Choice Awards.
The Greek Goddess Braided Hairstyle

Anne Hathaway, Sarah Michelle Geller and Jessica Alba all are wearing Greek goddess braids that wrap around the head and connect in the back. If you like the look but don't have the know-how, start first by learning how to do french braid hairstyles and then the options are limitless! French braiding isn't hard to do, it just takes practice to get the feel of it. Once you get the feel, you're limited only by your own imagination.
For more great looks check out our Pinterest Braid Board
[raw]
Barb Quinn on Google+  


[/raw]
2 Comments »
sorry, but how do u connect the hairstyle in the back??? i wanna use one for graduation, but i REEEAALLY dont kno how to connect it in the back. can anyone help????

Comment by sara — April 29, 2009 @ 4:00 pm

I love the greek goddess hair styles!!! Thats what me and my girlfriends are going to be for halloween! Its going to be so much fun thanks so much for showing us how to do it!

Comment by Garfiled Fancypants — October 15, 2008 @ 6:47 pm
RSS feed for comments on this post. TrackBack URI
Leave a comment