Hair News Update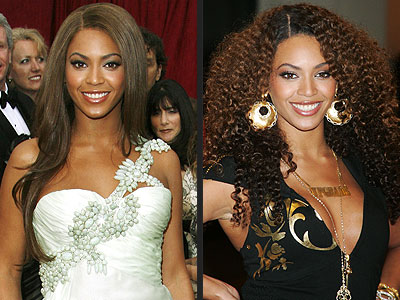 A Pill to Make Hair Curly or Straight?
Hmmm  . . . every hairdresser knows in their world of curly and straight hair clients, the grass is always greener on the other side. I wonder how many curly or straight hair wannabe's will soon be taking a pill to cure their wanton desires?
Could straightening serums ,curl enhancers, flat-irons or curling irons become obsolete?  I doubt it, but who knows? One thing we know we can count on and that is everything changes. Maybe dried out hair from overuse of heated tools will become obsolete?
Scientists in Australia have discovered a gene that is mainly responsible for creating curls. The head of the research, Professor Nick Martin says it is the variation in this gene that determines the straightness or curliness of the hair.  "Potentially we can now develop new treatments to make hair curlier or straighter, rather than treating the hair directly," Martin says.
The study appears in the latest edition of the American Journal of Human Genetics.
SwirliDo Hair Ties
Finally, a great pony-tail, bun holder that does the job and doesn't leave lines or break the hair! The SwirliDo came out a little bit ago, but I hadn't tried them till just recently and they do what they say. These ties hold the hair securely in place and slip out easily.
I have medium thick, wavy hair that normal scrunchies or bands leave indentations in when taken out. These didn't leave lines or kinks in my hair. They also worked well with a half-up do. It only took a couple twists to hold a small amount of hair in the half up-do.
SwirlDo's come in a variety of colors and sell from $7 to $10 at drug stores or at www.facialwork.com
Hairfree Brushes
Cleaning your hair brush is one of those annoying tasks that never quits. Hairfree is a unique line of brushes that allows for quick and easy cleaning and more.
By simply sliding up a button you can push the hair out of this brush. The ceramic coated plates heat up and help in giving you similar effects you get from your flat-iron or curling iron but without the damage.
The round brush can also be adjusted to create a vent brush which will allow for faster drying and more versatile styling. I think this sounds like a great idea, but haven't tried one myself as of yet.
The brush sells for $15.95 plus $3.75 shipping. Read more about Hairfree brushes here; www.hairfree.bz
[raw]
Barb Quinn on Google+  


[/raw]
No Comments »
No comments yet.
RSS feed for comments on this post. TrackBack URI
Leave a comment