Hair Salons for Kids
Hair salons for kids diminish haircut frustrations!
As a parent there are always things that it seems impossible to get your child to do, but there is always a solution. For example, if they won't eat healthily you can try the yes yes vegetables song. Why there haven't always been hair salons for kids, I don't know. I am sure at one time, either you have taken your child to a salon or have witnessed a child in a salon receiving a haircut. Some children cooperate – but others, their frustration is heard and their experience is a total nightmare! For the child it can be a pretty frightening experience because the environment is not the best "kid friendly" place to be, or the designer does not have the experience of working with children.
"Seek Out a Hair
Salon for Kids"Now, you can ease the frustration for the child, yourself and the hair designer by going to a hair salon for kids. Typically when a child goes to a salon, the shampoo is skipped because they cannot reach the bowl with the 20 towels or 3 phonebooks under their bottom to raise them up. At a hair salon for kids, the shampoo bowls are designed for the kids to lay down at a comfortable height while they are being shampooed without getting wet!
There are so many different types of hair salons for kids to choose from. There is a salon in London called "tantrum" that has gone all out for kids. The main floor is called "Moon" where they service kids under 7 in an enchanted forest where a train circles the styling stations. The lower level of the hair salon is geared towards 7-14 year olds called "Vogue", where kids are made to feel like a pop star.
Not all hair salons for kids are as over the top as in London, but many of them put in just as much fun for the kids. From fun filled play areas, coin operated rides to video games and DVD's on a flat screen TV – they got it all!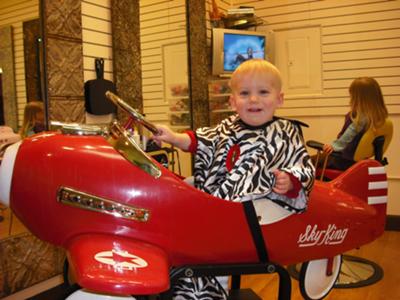 Could you just picture, Jacob getting his haircut while sitting on a John Deere tractor or Ashley getting her haircut in a yellow Mercedes? There are hair styling stations that look like airplanes, Barbie jeeps or even Harley Davidson motorcycles for the tough guy. Your child may like animals and choose an elephant or a giraffe to get their haircut on.
Going to a hair salon for kids is a great idea for those of you with more than one child. The others are kept amused by all of the activities available, while their brother/sister is receiving their service. At some kids salons you can even receive a lock of hair and a certificate acknowledging their first haircut for their baby books. Cute idea!
The best part is the hair designers are there for a reason – they love kids! They know how to interact and calm down a nervous child, while performing a top notch haircut in a short amount of time.
Check out the hair salons for kids in your area and put fun into their haircutting experience while easing the frustration for all!
No Comments »
No comments yet.
RSS feed for comments on this post. TrackBack URI
Leave a comment