Hairstyle Names
Current hairstyle names and how to get them!
Hairstyle names come and go but . . . the terminology for cutting techniques is mostly universal and sticks around. Become knowledgeable with what the stylists hair cutting terminology refers to and you are more likely to get the look you want!
Beachy Waves – Hairstyle names like 'beachy waves' describe this style pretty well. The look has loose waves that are a bit disheveled with a windblown effect. Notice the ends are either lightly curled or not curled at all.
Get the look: Use a volumizing mousse and blow-dry till 90% dry. Use curling iron, velcro rollers or a quick hot roller set leaving the ends out. Lightly rake curls through with fingers. Mist with a light finishing spray.
Choppy Hairstyles – Hairstyle names with 'choppy' in them refer most often to short, straight cuts with uneven layered ends. Hair stylists most often use a razor but may also use a thinning shear or texturizing shear to get the look. A 'Choppy' hairdo may also refer to uneven face-framing layers in longer styles.
Get the look:  In order to see the 'choppy' hair style effect, the hair needs to be straightened. Get volume with a root lifter. Use a straightening serum and blow-dry smooth. Finish with a flat-iron for your best choppy looking haircut.
Rihanna's Piecey Hairstyle
Piecey Hairstyles – Hairstyle names with 'piecey' in them allude to short haircuts with defined ends.
Get the look: To get 'piecey' ends straighten the hair with a flat-iron. Use a wax or gel to separate ends into chunky, face framing pieces.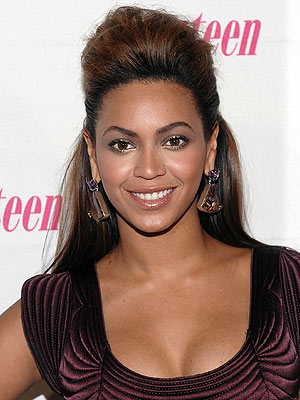 Beyonce Pompadour Hairstyle
Pompadour Hairstyles – Hairstyle names with 'pompadour' in them refer to both men and women's hairdos these days. A pompadour has exaggerated height at the top/front of the hair style (think Elvis and Rihanna) and can be styled a number of different ways. Bangs or long layered bangs are helpful to hold lift put in that area.
Get the look: Get this pompadour style by backcombing the top/front of hair, leaving out some bangs to smooth over. Mist with hairspray. Smooth over lightly and secure with clip into a half-updo with sides.
Side Swept Bangs – Carrie Underwood
Side Swept Bangs – Hairstyle names with 'side swept bangs' can point to a number of different lengths and cuts of hair. Now, however the most current look with side swept bangs being asked for in hair salons is what Carrie Underwood is wearing here. Smooth long hair with long face framing layers.
Get the look: Blow dry hair smooth, use a straightening serum if needed. Use a large barrel curling iron to lightly curl long layers towards face. Make a deep side part and smooth and slightly bend bangs with iron.
Retro Glam Hairstyles (Old Hollywood Glamour) Kate Winslet
Retro Glam Hairstyles – Kate Winslet wore this hairdo at the 2010 Academy Awards (as did a number of other stars.) Hair style names with 'retro or old Hollywood glamour points to the obvious . . . the glamorous stars of the 30's and 40's. Kate channels Veronica Lake with this retro glam look.
Get the look: This hairdo is coiffed smooth and with no volume. Use a smoothing or straightening serum and blow-dry smooth and flat. Curl hair starting three or four inches from scalp into vertical or horizontal waves. Pull a shine serum through hair and make a deep side part for a glamorous effect.
[raw]
Barb Quinn on Google+  


[/raw]
No Comments »
No comments yet.
RSS feed for comments on this post. TrackBack URI
Leave a comment