Hairstyles for Round Faces and Curly Hair
Hair Styles for Round Faces
I recently received this comment, obviously from a reader who wasn't helped by this post on hairstyles for round faces.
"

Rena writes:

I really am not impressed by articles like this that show us a bunch of pictures of almost every kind of hairstyle on people with narrow and oval faces – especially celebrities, when we are asking for help with hairstyles for round faces. If you had a round face, maybe you would take this question seriously, because you would know how challenging it is to find flattering hairstyles. This was so generic it was not even helpful."

,,
I may not have expressed myself clearly in the post Rena refers to. Let me clarify that I know the celebrities I used as examples for hairstyles for round faces in that post, do not have round faces themselves. The point in that post was that the hairstyles these celebrities were wearing are hairstyles that will also work for round faces.
I am aware of the problem of finding hairstyles for round faces. Here are some pictures of hairstyles for round faces that are for curly hair that I think work great! See what you think!
Hairstyles for round faces with curly hair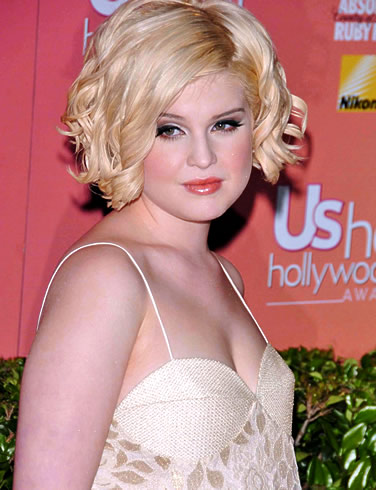 Kelly Osborne in a cute hairstyle for round faces and curly hair
Kelly Osborne has come a long way baby! If you want to see some hairstyles for round faces that DON'T work, you only need to look back to many of Kelly's old hairstyles. This hairstyle works famously for round faces with its deep off-center part and inverted layers (shorter in the back, longer on the sides.) It creates an asymmetrical look which always balances well with round faces!
This long layered hairstyle is a great hairstyle for round faces. This models round face shape is balanced by the off center part with a bit of height on top. And check-out the over-all outline of the haircut . . . its shape is a diamond shape. A hairstyle that can be styled into a diamond shape . . . that is with height on top, width to the sides and tapering on the bottom . . . is a perfect hairstyle for round face shapes!
Julia Stiles in a perfect hairstyle for round faces
This mid-length wavy, curly bob looked great on Julia Stiles some years back. Julia's round face shape is softened by this hairstyle. This hairstyle works for round faces when styled with a deep side part and soft, long layers.

Isabella Rossellini in a perfect hairstyle for round faces
Isn't Isabella Rossellini is a stunning woman? Her face shape is about as round as round gets and still when you see her smiling this big, and at this angle, it takes away from the roundness a bit. Isabella's hair is normally straighter but her shorter, curly hairstyle works for round faces with an asymmetrical feel to it. Tucked behind an ear, and styled with a side part and cut into a wedge, this hairstyle creates angles to its shape which balances well with her round face shape.
For more ideas about face shapes and hairstyles check out our Pinterest Hairstyles for Face Shape Board..
6 Comments »
RSS feed for comments on this post.
Leave a comment