Jessica Alba Updo Hairstyles
Jessica Alba Hair, Pregnant and Looking Beautiful!
News of Jessica Alba's pregnancy with longstanding boyfriend, Cash Warren, has hit the tabloids big time. Her rep, has confirmed the news with People magazine and reports her due date to be this spring or early summer. In my calculations, that means she may be a couple of months pregnant in some of these recent photos.
Jessica Alba short styles looks best with a messy, casual updo pictured above. Set the hair with large hot rollers or use a large rod curling iron (1¼" barrel) to create soft waves. Here she pulls her hair back into a low, messy bun and dresses it with an antique pearl barrette . . . sweet.
Do women become more beautiful when pregnant? Do they actually have that certain . . . Glow? I can tell you first hand, many women experience a healthier head of hair when pregnant. I've experienced a large number of clients whose hair texture changed with pregnancy, became thicker and developed more body and shine than before pregnancy. Why? Hormones and the increased attention to a healthier diet, seem to clearly have a positive effect.
Mega multi-vitamins doctors prescribe for their patients, has a positive effect on the texture as well as growth of the hair. However, don't mistake mega-vitamins as an answer to all of your hair woes, but do count a good diet and exercise program as a positive influence.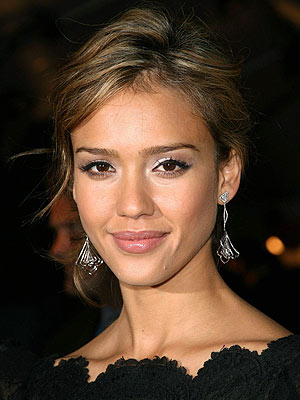 It doesn't get much more casual that this! Be sure to wear smashing drop earrings!!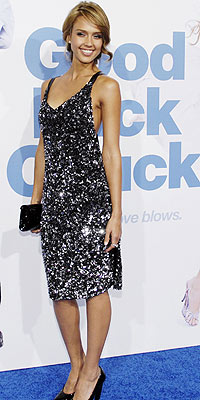 Another low, casual bun with side swept bangs and . . . a great dress.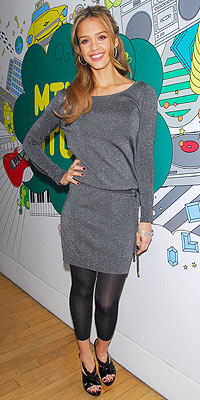 Don't forget the half up-do hairstyle. Use a pretty, sparkly barrette to clip sides in back, and softly curl tendrils around the face.
This classic ponytail with created lift on top, looks spectacular on Jessica Alba with her beautiful face and skin. Especially if you have a nicely shaped face and are blessed with good features . . . Go for it!
For more great looks check out our Pinterest Wedding Hairstyles, Prom Hairstyles, Braid, and Celebrities Boards.
[raw]
Barb Quinn on Google+  


[/raw]
Other Articles You Might Enjoy
3 Comments »
jessica alba is a stunnner, i love u to bits Jess

Comment by lu — October 26, 2009 @ 11:20 am

I Love You Jessica

Comment by Aytaç — October 2, 2009 @ 2:10 pm

she is so GORGEOUS!

Comment by ha! — July 17, 2008 @ 3:36 am
RSS feed for comments on this post. TrackBack URI
Leave a comment