Katie Holmes New Haircut Ditto's Rihanna Short Hairstyle
Katie Holmes New Haircut Copies Rihanna Short Hair Style
What do you think of Katie Holmes new haircut? I'm not crazy about this new pixie-like hairstyle she's touting lately. I do like this hairstyle on Rihanna, who styles this version of the pixie, with long bangs and a tapered neck, more spiky and funky cute. How you style any hairstyle . . . makes a difference.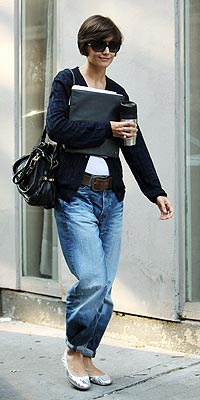 Katie Holmes New Haircut    Rihanna Short Hairstyle
Remember all the articles you've read suggesting hairstyles and body shapes should be in proportion with each other? Touche! Actually, Katie Holmes choice of fashion is what is throwing this new Rihanna short hair style off for me. This is what not to wear! I'll say no more. But, I will say in this picture clearly either the trendy pegged jeans or the new short-cropped hairstyle needs to go (get rid of the jeans.) I've seen some slightly better pictures, of Katie Holmes new haircut, where she was dressed better for this new Rihanna short hairstyle. But still, the hair looked rather, b-l-a-a-h on this otherwise beautifully stunning woman.

Katie copies Rihanna hairstyles
But I give Katie Holmes kudos for switching it up again and trying another new hairstyle. (But is it my imagination or is she mirroring Rihanna hairstyles?) Perhaps it's been changed to fit her new profile in her new role in the New York City Broadway play, "All My Son's."
She looked chic, trendy and sexy in the bob hairstyle she wore for the last year. For most of us normal folk, it's scary to change when you've found a good thing. And no doubt, the bob hairstyle was an easy maintenance hairstyle on top of it. She was responsible for kicking the bob hairstyle up a notch again in Hollywood, along with her BFF Victoria Beckman. But, she's worn it for about a year now, and in Hollywood, that's a long long time.
I'm certain if she is unhappy with this hairstyle, slight variations on this hairstyle will have her looking more adorable again in no time!! To stay current with what is happening with the celebs follow our Pinterest Celebrities Board.
[raw]
Barb Quinn on Google+  


[/raw]
2 Comments »
I <3 THE LEFT ONE! I WANT THAT HAIR!

Comment by helena — June 23, 2011 @ 2:53 pm

omg love thih hairstyle!

Comment by leslie — January 10, 2009 @ 2:05 am
RSS feed for comments on this post.
Leave a comment