The Straight Truth About Organic Hair Products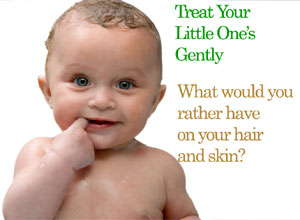 Organic Shampoo Crowd Using Scare Tactics
Ya know, I'm becoming very suspicious of this "organic products crowd". If you meet one of their advocates they are always full of wild claims and they are such zealots that they border on extremism. They always seem to want us to feel like we are killing baby kittens if we prefer products with chemicals in the ingredients.
Don't get me wrong, I am very much in favor of trying to lead life my life in an environmentally conscious way, when there are clear scientific facts that justify taking action. To me if it is not backed up by scientific fact it is just somebody else's religious belief system. It is almost like they know that if they don't stretch the truth you'll never become a convert to their religion.
The article below is a case in point. It is this article I ran across which claims that 60% of the chemicals that our skin is exposed can be absorbed into the body. What complete utter nonsense . . . if that be the case we would have all been dead by age two. Just think of one example, Chlorine it is in every pool that your baby swims in and is a very toxic chemical (ever forget to put those drops into the goldfish bowl?).
Modern hair care product manufactures carefully test every product that gets marketed. You need not be afraid to use off the shelf hair care products on you and your family. Don't fall for the kind a malarkey contained in articles like this one:
"

Up to 60% of what you put on your skin (and on your children's skin) is absorbed into the body.

Now go read the label on your kid's shampoo or liquid soap bottle. Dyes. Preservatives. Synthetic foaming agents. Parabens and petrochemicals. Is that the kind of stuff you want coursing through their veins?

,,
[raw]
Barb Quinn on Google+  


[/raw]
No Comments »
No comments yet.
RSS feed for comments on this post. TrackBack URI
Leave a comment