Shear Genius 3 Hair Stylists Wanted!!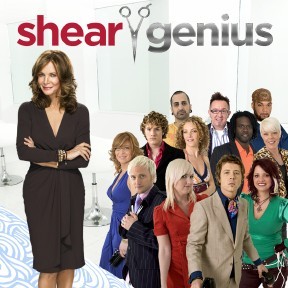 Network Combs The Nation For Talented Hairdressers To Compete On Shear Genius 3
Bravo Media announced today season pick-ups for a third season of the hit creative competition series Shear Genius. The announcements were made by Frances Berwick, Executive Vice President and General Manager, Bravo Media.
So, all you hairdressers out there who have been emailing me to when and where YOU could try-out to be the nations next Shear Genius . . .  you're up!! Sharpen your shears and polish up your skills, you have a shot here at a once in a lifetime opportunity. Challenging yourself to be the best you can be, taking risks and working hard at a competition like this has incomprehensible rewards . . . whether you make the cut or not!
This is a GREAT opportunity to not only hone your skills, but to get the most joy out of this profession you chose. If that nasty old emotion "fear" rears its ugly head to keep you from moving forward on this pursuit, just remember it is only a figment of your imagination. Remember how you needed to overcome "fear" first hand, many times, in growing as a hairdresser and where you would be if you hadn't!
Here is the information I received from Bravo Media, everything you need to change your life starting today!  GO FOR IT!!  What a great growth opportunity for our industry!!
Bravo's hair-raising creative competition series "Shear Genius" will be returning for a third season and is seeking the nation's hottest hair styling experts. Open calls for hairdressers interested in competing in the high-stakes hair-cutting competition series will be held in cities across the country starting this week.
For more information on casting, go to www.bravotv.com/casting. The series offers a captivating behind-the-scenes look at the competitive and creative world of high-end hair styling, determining which contestants are a cut above and deserving of the ultimate title of "Shear Genius," along with the $100,000 grand prize. "Shear Genius" is produced by Reveille for Bravo. Mark Koops, Howard T. Owens and Teri Kennedy serve as executive producers.
"Shear Genius" season three casting calls are as follows:
LOS ANGELES
Sunday, March 15, 9:00 AM – 6:00 PM
Sassoon Academy
321 Santa Monica Blvd. Santa Monica, Calif. 90401
www.sassoon.com
AUSTIN
Sunday, March 22, 10:00 AM – 6:00 PM
The Academy at Austin
15635 Vision Drive. Suite 107, North Austin by Pflugerville, Texas 78660
[raw]
Barb Quinn on Google+  


[/raw]
No Comments »
No comments yet.
RSS feed for comments on this post. TrackBack URI
Leave a comment