Hair Care Products Support Breast Cancer Awareness Month
Hair care products you can purchase to support the cause!
October marks Breast Cancer Awareness Month and to help the cause, several beauty and hair care products companies are selling products to benefit Breast Cancer Awareness. Wondering what you can do to help out? You can purchase these beauty or hair care products and tools this month and all throughout the year to benefit the cause.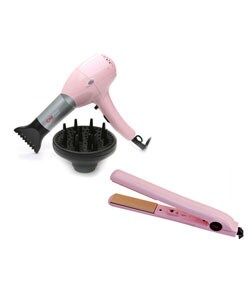 Hair Styling Tools for a Cause
Benefit Breast Cancer Awareness with a Farouk Chi Flat Iron and Blow Dryer. Chi is known for their high quality, professional hair care styling tools, so benefit both breast cancer and yourself by purchasing their limited edition pink flat iron or hair dryer.
Conair has also come out with a Pink Ion Shine Breast Cancer Awareness Hair Setter set of hot rollers. I love this set for three reasons:
Conair is known for making  a great set of hot rollers
It is pink
It benefits Breast Cancer Awareness!
Accessories
Accessorize with beautiful breast cancer awareness accessories like this scarf. As you may know from reading my post yesterday, scarves and headbands are hot fashion accessories right now. For the month of October, I urge you to show your support by accessorizing with hair care products and accessories that benefit Breast Cancer Awareness. Choose from a variety of accessories such as headbands, hats, pins, barretts  and more.
Every year there are over 200,000 women who are diagnosed with breast cancer.  Find out more about Breast Cancer Awareness at these websites:
National Breast Cancer Awareness Month Website
National Breast Cancer Foundation
[raw]
Barb Quinn on Google+  


[/raw]
Save this page to:
del.icio.us
-
Digg it
-
Yahoo MyWeb