New Hairstyles for Fall
The New Season Brings New Hairstyles
"New Hairstyles are Smooth this Fall"New hairstyles for the Fall Season are all about richening up your current hair color and cleaning up your grown-out hair cut. Get deeper, richer shades with semi-permanent hair color and go for a bold new haircut to chop off damaged tresses from your summer spent in the sun. Note how celebrities are setting the new hairstyle trends this fall by going bolder with darker hair colors and being fearless with their new hairstyles.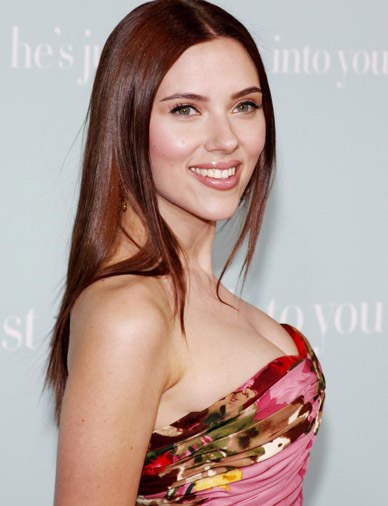 Scarlet Johansson wears a new hairstyle darker hue for fall
Fall's new hairstyles are showing hair colors that are deep, rich and lively and which give a dramatic boost to your current hair color. Red heads need to be richer, brunettes should go darker and blondes should add in lowlights for added depth.
I would suggest livening up your current hair color with a semi-permanent color in two shades darker than your current hair color. Semi-permanent hair color will also add shine to dull, lifeless locks.
Another option for adding some extra color and shine is my favorite hair treatment product, John Frieda's Luminous Color Glaze
. Every time I use this product, on a customer as well as on myself, compliments are plentiful on how shiny and healthy it makes the hair look! The Luminous Color Glaze comes in a variety of colors to suit you and also comes in clear, which I love and am currently using.
This season, new hairstyles are all about sleek, smooth hair. Curls are being smoothed out with the help of smoothing creams and shine serums and new hairstyles are going sleeker and shorter, like my favorite new hairstyle, the sleek bob. Gone are the big and bold hair looks of past seasons and in are the sleek and sophisticated looks of Fall's new hairstyles.
Hot new hairstyles for fall to try include the sleek bob (my favorite), smooth curly looks, as well as long and straight hairstyles with bangs. Break out your flat irons and paddle brushes for styling to get that smooth, sleek look that this season is famous for. Styling products to use include styling creams, smoothing serums and shine serums. My current favorite is Kenra's Platinum Silkening Gloss
that gets rid of my frizz, leaves my hair shiny and is great for use with my flat iron addiction.
Keep in mind that new hairstyles for this season are deeper, darker shades for your hair color and sleeker, smoother hairstyles for your hair cut. I suggest a consultation with your hairdresser to find your perfect hair color shade and your perfect new hairstyle for the season! Stay up with all the happenings in hair trends by following our Pinterest Hair Trends Board.
Save this page to:
del.icio.us
-
Digg it
-
Yahoo MyWeb