Have You Got The Right Style Bangs For Your Face?

Something For Everyone
Perfectly Blunt
We love how this model's blunt bangs which contrasts her cut's angled layers, which give her fine strands extra movement.
IS IT YOU? Provided they're not too wide, blunt hair bangs work well if you have a heart face shape, as they divert attention from a narrow chin. They're not a good idea, however, if you have a round face shape.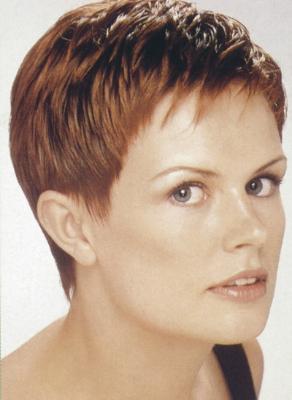 Short and Choppy Bangs

Cool to the nth degree, this bob features, chunky temple-hugging panels and crown layers that are styled for roundness.
IS IT YOU? If you're going for a short hair cut with this much over all edge, you need a lot of attitude, fairly even features and a proportional face shape.
Slanted Bangs

Bold, chevron-shaped bangs angling smoothly to one side create a two-cuts-in-one effect when the back of the crown is ultra-lifted.
IS IT YOU? Hair pros recommend this type of bangs for its ability to add softness to strong face shapes; try it if you have square, oblong or round face shape.
Piecey Bangs

Piecey, angled bangs coming off a full crown.
IS IT YOU? Piecey bangs can soften a round face's curves and a square face's strong jaw line. It also flatters the oblong face, as it draws the eye upward. Keep in mind that if your hair is curly, they'll be tough to maintain.
Eye-Veiling Bangs

A blonde with a short, layered haircut gets major mileage from curvy, pieced-out bangs falling past the lashes.
IS IT YOU? The look's a great choice if you have a high forehead that you'd like to conceal; it won't work so well if your hair is super thick and/or curly.
Pouffy Bangs

Full, slightly asymmetrical bangs is a perfect match for this Paris Hilton's retro inspired page-boy.
IS IT YOU? Bangs like these will disguise a high forehead and help draw attention away from a wide jaw line, which is typical of the inverted triangle face shape.
For more great bangs styles check out our Pinterest Beautiful Bangs Boards.
[raw]
Barb Quinn on Google+  


[/raw]
Save this page to:
del.icio.us
-
Digg it
-
Yahoo MyWeb