Vampire Women Celebrity Hairstyles
Favorite Vampire Women Celebrity Hairstyles
In honor of the newest vampire movie out, New Moon, I decided to compile my favorite vampire women celebrity hairstyles . . . complete with celebrity hairstyles how-to.
Favorite Vampire Women Celebrity Hairstyle: Ashley Greene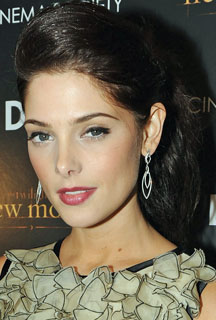 Ashley Greene's Twilight Premier Ponytail
Twilight star Ashley Greene had the perfect ponytail for her premier look. It was voluminous and shiny and perfect for the event. I know that I'm not the only one wanting this look, so here's how to get it:
Celebrity hairstyles expert, Ted Gibson, who styled Ashley's hair gave some pointers on how to copy this look. He used a thermal spray at the root and a styling cream on the rest of her strands. He blow dried the hair with a round brush to create lots of volume and then used a large barrel curling iron to create a smooth curl with lots of volume. He teased the hair in the front, to create lift, smoothing top strands and then pulled back into a ponytail and secured with a hair band.
Favorite Vampire Women Celebrity Hairstyles: Sarah Michelle Gellar
Buffy The Vampire Slayer's Simple Layers
"Vampire Women Celebrity Hairstyles"
Alright, I realize that Sarah Michelle Gellar played in the TV version of Buffy the Vampire Slayer, but this was originally a movie, so it made my number three spot for favorite vampire women celebrity hairstyles. During this shows run, Sarah Michelle Gellar, who played Buffy, had some noteworthy hair styles. Many women rushed to the hair salon to get her simple and subtle layering which was occasionally enhanced with waves.
If you want Buffy's wavy hair look, blow dry hair with a round brush for volume and then put hair into medium-sized hot rollers. When cool to the touch (about 20 minutes), remove and finger style waves.
.
Favorite Vampire Movie Celebrity Hairstyles: Robert Pattinson
Robert Pattinson, who plays Edward in Twilight and New Moon, has the dreamiest hair around. Thick, lush, wavy and perfectly messy, Edward's big hair look in these movies gets top spot for my favorite celebrity hairstyle in vampire movies.
If you want a style like Edward's, it helps to have a thick, wavy texture to your hair. Enhance this style with plenty of texturizing products including my favorite, Enjoy Texturizing Spray
, along with a spray wax. Another product line I like is TIGI's Bed Head
, since this line is specifically developed to give you that perfectly messy look.
Save this page to:
del.icio.us
-
Digg it
-
Yahoo MyWeb