Tired of the same old hairstyle?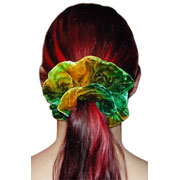 Hair accessories are a quick way to change the look of your tired old hairstyle
Sometimes, thinking you need to spend another $100 at your hair salon in order to have a change of hairstyle, is completely wrong. If you're just tired of the same old hairstyle, why not try some different hair accessories.
Start out by trying something new once a week. You might be surprised by the looks or comments that will come your way . . . its good to shake things up once in a while. (By the way, I've learned that I may have carried a new look a bit too far if no one dares to comment at all, think it's a clue? Oh well, at least you can say you tried) For some ideas here are some suggestions from the Daily Monitor.
"

Tired of Hairstyle?
PHOEBE MUTETSI

FASHION: Every woman should know how to make her gift from God stand out

As a gift from God, hair is every woman's "crowning glory." It doesn't matter how you choose to wear it- accessorize to give yourself a distinct look. Different hair accessories will give you a different look; from hip and fresh to sporty, elegant or simplicity. Below are some of the trendy hair accessories you can try out.

Scrunchies
Girls usually refer to them as puff holders. However, scrunchies are no longer used just to hold hair in a puff. Gone is the black puff holder; in is the bright, colorful and flowery scrunchy. The market is now flooded with lovely bright and even beaded scrunchies.
With the scrunchy, you can dress up your ponytail or braids for an exceptionally sleek and stylish look.

Hair wraps
Musician Rachael Kiwanuka (pictured) has patented the hair wrap style and it gives her a distinct look. Like all fashion trendsetters she has shown us how to transform ordinary braids to an exotic look. Hair wraps will flatter you especially when you have an oval-shaped face. They give the wearer a young, fresh and trendy hairstyle look.

Snaps/hairpins
For the little girls and the little girl in each one of us, snaps/hair pins are suitable. Snaps are great and simple at the same time. A colorful butterfly snap will bring out the glow, not only in your hair but also on your face. You can clip them on to your wig, braids or natural hair for a day out in town or going for a walk.

Tiaras
Every bride wants to wear a regal tiara to feel like a queen on her wedding day. You don't need to be a bride to crown your head with a tiara. A small tiara is perfect for the person who wants to keep it simple, yet with a touch of elegance! A beautiful and simple tiara will look great with an evening dress.

Hair clips
Secure your hair with a stylish, yet practical jaw clip that features a circular body and widely spaced teeth.

Headbands
For the sporty babes, this is the hair accessory for you. The headband will hold your hair in place while you jog. Even if you are not on the track, you can wear a colorful headband to enhance your velvet tracksuit.

,,
[raw]
Barb Quinn on Google+  


[/raw]
No Comments »
No comments yet.
RSS feed for comments on this post. TrackBack URI
Leave a comment