Carrie Underwood's Wedding Hair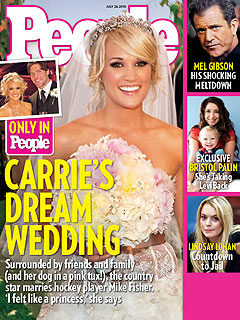 Wedding hair style for country American Idol, sweet and simple!
We haven't caught site of any more pictures than this of Carrie Underwood's wedding hair style to date, but more will be released in this Friday's issue of People Magazine. Our country singing American Idol tied the knot with her long time sweetie, Canadian pro hockey player Mike Fisher, on Saturday, July 10th at the Ritz-Carlton Lodge Reynolds Plantation in Greensboro, Georgia.
"Carrie Underwood Wedding Hair" Carrie's wedding hair style was a sweet and simple up do, with side-swept bangs and face framing, softly curled tendrils. It was a DIY type of wedding hair style that at least some of you might imagine being able to achieve at home, don't you think?
I think it was a good choice for Carrie and it reflects her style . . . important when looking back on pictures in years to come.Another plus, was that her uncomplicated wedding hair style showed off a diamond tiara, (Mikes bridal gift to her) and the Chantilly lace and silk organza dress she wore, perfectly. She told People magazine that "The dress was huge." She changed into a strapless cocktail dress after the ceremony she said, "I wanted to get my boogie on, so I had to change."
Carrie's wedding hair style reflects a wedding hair trend that says simple and casual looking hair is perfectly in good taste on your big day. See these celebrities who recently went with seriously casual wedding hair styles and looked totally stunning.
Here the couple shows their casual side when spotted in Tahiti, for the start of their Honeymoon!  They are on to Bora Bora next.  Congratulations to a lovely couple!!
Carrie Underwood Fisher and hubby Mike Fisher
More pictures of her wedding hair will be released in this Friday's issue of People magazine.
[raw]
Barb Quinn on Google+  


[/raw]
No Comments »
No comments yet.
RSS feed for comments on this post. TrackBack URI
Leave a comment