Drew Barrymore Grey Gardens
Drew Barrymore Finger Waves Rule in Old Hollywood Glamour!!
Last night in the wee hours as I was flipping through channels, I caught this shot of Drew Barrymore looking like one of the Old Hollywood glamour gals of the 30's and 40's!! This is the same tomboy Drew we used to know from days gone by. What a fabulous makeover! Wouldn't it be fun to do a total transition look like this one for some special soriee! Bravo, to her make-up artist, hairdresser and of course Alberta Ferretti, for the amazingly long fitting nude gown!!
Drew was attending the premiere of the new HBO film, "Grey Gardens" at The Ziegfeld Theater in New York City, with co-stars Jessica Lange and Jeanne Tripplehorn. Grey Gardens, is a remake of the namesake 70's documentary based on the true story of two eccentric relatives of Jacqueline Bouvier Kennedy, the Bouvier Beales.
"Sucsy's original story for GREY GARDENS offers a wry, behind-the-scenes look at the Beales and their unique mother-daughter bond. Told over the span of four decades, the film focuses on their glamorous and well-heeled lives long before the making of the documentary and on the circumstances behind their riches-to-rags story."
Well, I'm looking forward to this not just for the drama, which will probably win an Emmy, but the hairstyles and dress from this era are always fabulous and fun to see. And, Jessica Lange, (from my hometown) is one of my favorite actors as well. So watch for the cable network premiere this Saturday April 18th.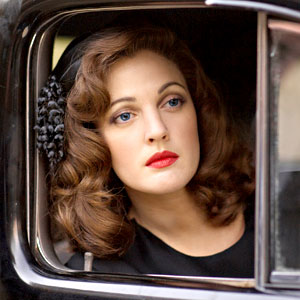 Drew is believable as a 40's bombshell. . . Wavy hair, red lips, pale skin and hat!
Watch for finger waves being a look that you see on the high fashion streets in some of our bigger streets. Christina Aguilera is bringing back the romantic 40's hairstyles with her platinum finger-waved hairstyle. For step by step DIY how to's on getting the Chirstina Aguilera finger waves take a look at my article Christina Aguilera Short 40's Hairstyle.
And of course the Great Gatsby has been a huge influence on the popularity of the finger waves. The Daisy Buchanan look is sprouting up all over the fashion scene as this simple, yet powerful hair trend is a real head turner. With a triple barrel curling iron finger waves are a snap.
[raw]
Barb Quinn on Google+  


[/raw]
Other Articles You Might Enjoy
No Comments »
No comments yet.
RSS feed for comments on this post. TrackBack URI
Leave a comment