Halloween Hair Styles
Try one of These Easy Halloween Hair Styles

If you are looking for fun and easy Halloween hair styles to make your look complete this Halloween, get out your creative hat and try on one of these for amusement! This beehive look is perfect! You will need medium to long hair length for this easy hairstyle.
"Easy Halloween
Hair Styles"Follow these tips that we got from Martha Stewart to get this beehive easy Halloween hair style:
Step 1: You'll need one skein of yellow yarn cut into 50 three-foot strands; divide into five bundles.
Step 2: Part hair into five ponytails; secure each with an elastic band.
Step 3: For each ponytail, secure middle of a yarn bundle to base of ponytail with elastic band. Take half the ponytail and half the yarn in each hand. Twist the hair and yarn in your right hand together a few times in a clockwise direction; repeat with the left hand. Then wrap the twisted pairings around each other in the opposite direction. Continue until you come to the end of the yarn; secure end with elastic band.
Step 4: Once all ponytails have been combined with yarn, make the beehive. One at a time, coil each ponytail on head; secure with bobby pins. Tuck ends inside. Use bobby pins to attach pipe-cleaner bees, silk flowers, and plastic twigs.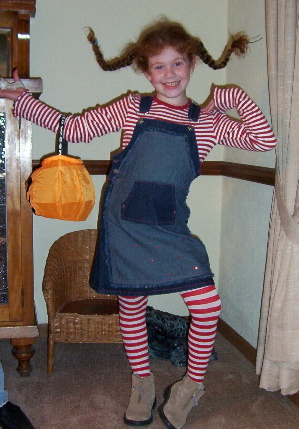 Pippi's pigtails make for Halloween hair styles!
For one wild and wacky Halloween hair style, try pigtails that point upwards and outwards! When my customers are looking for easy Halloween hair style, this is one that tops my list! To get this look, you just have to braid pipe cleaners into your hair while styling.
Here's how to get this Pippi Longstocking-esque easy Halloween hair style:
Step 1: You'll need two to four pipe cleaners in a similar color to your hair.
Step 2: For thin to medium hair, braid one pipe cleaner in with each braid. For thick and coarse hair, braid two pipe cleaners in with each braid.
Step 3: Style pigtails pointing in any direction you choose.
Easy Halloween hair styles with neon colors!
Many of my clients wonder how to get a certain color of hair for their Halloween costumes. They wonder if they'll have to wear a wig or if there is a product on the market available to give them quick and easy hairstyles for Halloween.
Two of my favorite products are Jerome Russell's Temp'ry Hair Color Spray
and Joico's Ice Spikerz Colorz Styling Glue
. To use Jerome Russell's Temp'ry Hair Color Spray simply style hair and then spray the colored aerosol spray all over until you reach your desired result of color. Joico's Ice Spikerz Colorz Styling Glue is used for looks that call for an extreme hold gel with color. Both of these products are temporary and wash out with a good clarifying shampoo.
These are all easy Halloween hair styles to achieve with just a little practice and they are perfect for Halloween. My daughter will be wearing a bee costume this year and I'll be doing her hair like the beehive hairstyle above. Comment and let us know if you have any easy Halloween hair styles that will make your look this Halloween!!
2 Comments »
I liked the easy hairstyles. They are easy to follow. Thank you,

Comment by Becky Hansen — November 2, 2009 @ 11:01 pm

your website stinks it has no good pictures or good halloween hairstyle ideas

Comment by Chloe — October 30, 2009 @ 3:07 pm
RSS feed for comments on this post. TrackBack URI
Leave a comment