Hair Accessories Are Big
Hair Accessories, the Hottest Hair Trend
Hair accessories are hot this season so jump on this trend right away. Hair accessories like headbands, flowers, etc. are great for dressing up the casual hairstyles of summer. I like to slip on a double headband when I wear a ponytail to give it a little flair. You can do the same or try a flower tucked into the side of your updo hairstyle for an exotic look. Here is how to wear the hottest hair accessories this summer and fall: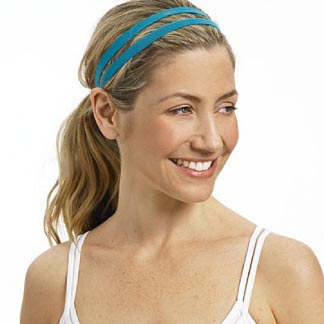 Hair accessories like headbands work on everyone!
My favorite hair accessories trend this summer, has been headbands and the beauty is, headbands work on virtually anybody. Headbands are so versatile and come in a variety of style options. You can wear your hair pulled back and top the look off with a thick headband to give your hairstyle a sleek look or try two skinny headbands to add a fun element to your hairstyle.
Another headband hairstyle that is ultra trendy right now is the hippie headband look, what do you know, just in time for the 40th celebration of Woodstock! For this look, wear a headband horizontally around your head like Molly Sims did in this picture. Headbands are a quick and easy way to dress up any hairstyle.
Scarves are great hair accessories!!
Scarves, made popular again by stars like Nicole Richie, are not only fashionable, but keep hair under control during what might otherwise be considered "a bad hair day". Scarves can keep hair off your face at the beach or pool and will give your hairstyle elegance reminiscent of Jackie-O. Look at how with just a scarf and sunglasses, Nicole Richie transformed her simple ponytail into a very elegant overall look.
I suggest picking a scarf that compliments your outfit but isn't too matchy-matchy. For example, if you are wearing a yellow and white polka-dot bikini, don a yellow scarf to tie the look together.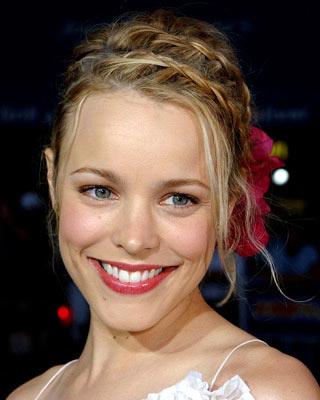 Hair accessories like flowers give your style an exotic flair!
Give your style an exotic spin using flowers as hair accessories. I have been wearing flowers in my hair for years, and I'm glad to see this style has come around . . . means more hair accessories to choose from! I think adding a flower to any hairstyle gives a striking, unique look that no other hair accessories can achieve.
I like wearing my hair one of two ways when I add a flower to my style. One is down and wavy with a flower tucked into it behind my ear. This is a great style if you are going for an organic and natural looking overall hairstyle. I also like to pull my hair back into a messy bun and then tuck the flower in towards the back like Rachel McAdams did in the picture above. I love that she added another hot trend, braids to this look. Experiment with different colorful flowers and different hairstyles to see which one will suit you best.
Use hair accessories to change and spice up your everyday hairstyles and for more great accessory ideas check out our Pinterest Accessorize your Hairdo Board
[raw]
Barb Quinn on Google+  


[/raw]
3 Comments »
Great article, thanks for sharing@

Comment by Favorite Hair Accessories Blog — September 25, 2009 @ 2:35 pm

In my opinion hair accessories will always be in style. They can make or break a woman! Long live the fashion industry.

Comment by Belle Tresse Spa & Salon — August 14, 2009 @ 4:35 pm

fabulous read,TY !

Comment by Becca — August 13, 2009 @ 9:32 pm
RSS feed for comments on this post. TrackBack URI
Leave a comment