Hair Ideas and Trends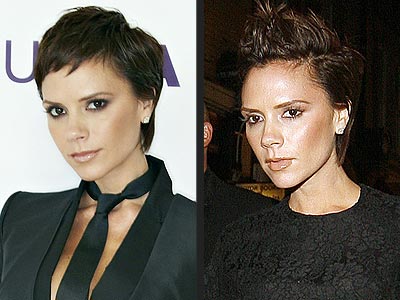 Hair Ideas and Trends are not Always Fashionable
By Gina Palumbo
"Hair Ideas and
Hair Trends"I always like to consider myself fashionable, but there is a fine line between being a trendsetter and following a hair trend. Your hair style speaks volumes about you and no matter what shape or size your hair style may be, it is part of your personality. Your hair style is part of what defines you as a person. If you want to have your own style; why not be the trendsetter? There is no better feeling than for someone to come up to you and say "Oh my god, I love your hair! Where did you get it done? (Although, you hope they don't become a clone of you.)
I loved Posh's first bob hair style and blond high lights, and so did everyone else, it quickly became a hair trend. I'm sorry but looking like twenty other people on a Saturday in the mall, is not what I'd call fashionable. The key is taking something from a hair style and making it your own, not becoming a clone. If we all had the latest hair trend of Jennifer Aniston's high lights, Posh's bob, or Gisele's hair style, who would we be?
Getting hair ideas from a particular hair style and then owning it and making it your own, that's what makes you fashionable. Looking like your best friend, is not particularly the best look to go after either. You can both go to the same hair hairdresser, but change it up a little. Make something about the hair style you wear, your own.  It might be cute to mirror your best friend at fifteen, but not beyond.
| | |
| --- | --- |
| | |
| Jennifer Aniston's set her trend hair style | A young Jennifer Aniston hair idea |
Then there are the trend hairdressers who give the same cut and color to everyone. Every person who leaves they're chair looks the same. It doesn't matter the hair texture, shape of the face, or the clients opinion, they think every client should have a bob, because that's what's in. Be sure to speak up and tell your hair hairdresser what types of looks suit your personality and lifestyle and maybe even more importantly, what doesn't!
The last tip I have is this; Let's say you have the hair style that everyone has said they love on you. They love the hair style, the hair cut, the hair color, everything about it fits you.  But now I need to ask, how long have you had the exact same . . . well everything?
If you are too afraid to break out of the mold, out of your comfort zone and you find that year after year, hair trend after hair trend, you stay with what you know is comfortable . . .  you, my friend need to make a change. If you can look back on pictures over a couple years and there you are with the same hair style you're wearing today, let's just say, it's time for you to be back on top again.
Remember, to mix it up once in a while. Look at pictures of celebrities, or pictures in magazines, but take a little from each and make it your own. Who knows maybe you need a new hairdresser with a new perspective on things, who can offer some great ideas?
Hair trends are good when you're the trendsetter. Stay up with all the happenings in hair trends by following our Pinterest Hair Trends Board.
[raw]
Barb Quinn on Google+  


[/raw]
3 Comments »
Thank you! We love to hear feedback from our readers.

Want to check out some hairstyles that we wish would just go away? Check out the blog Isn't it Time to say Goodbye to These Out of Style Hair Trends? by Visual-Makeover.com. It's a fun, must read that will leave you nodding your head and laughing out loud!

Have a fantastic day!

Comment by Michelle Skye — October 10, 2013 @ 5:20 pm

There is definately a lot to find out about this topic.

I really like all the points you have made.

Comment by buy contextual links — October 10, 2013 @ 9:23 am

Jennifer Aniston has changed a lot, becoming a lot prettier now. I want to be the trendsetter by doing what I enjoy.

Comment by jerry — June 30, 2010 @ 10:05 pm
RSS feed for comments on this post.
Leave a comment