Haircare Products Sampled Via Vending Machines?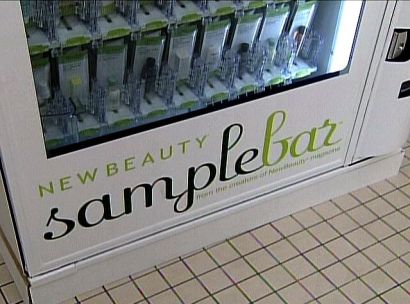 Haircare products and beauty products for less?
Apparently, deluxe size samples of luxury haircare products, skin care, make-up products and bath products are now available at bargain prices for a trial run via vending machines! That's original!
This sounds intriguing, that high end haircare products and beauty products are now available to try (in 'deluxe' sizes) at bargain prices. For instance that means, so they advertise, that the normally priced $110.00 skin repair potion, will be sold as a 2 weeks supply for just somewhere between $3.00 to $10.00. The prices of their products are $3.00, $5.00 or $10.00 for a two weeks supply. The samplings are haircare products that New Beauty advertises in their magazine.
"Sample Haircare Products on the Cheap"NBC Miami.com reported this week that New Beauty Magazine in Boca Raton Florida has opened it's first "Sample Bar." New Beauty products sold in the first vending machine in Aventura Mall, reportedly the 5th largest mall in the country.
"If you're really looking for new brands and haircare products to fit into your beauty regimen, the New Beauty sample bar is the perfect opportunity for you to try the products at an inexpensive price," explained National client services manager, Erin Piper. "When consumers read about the products within the pages, they can come and sample the products in the machine."
In looking for more information about the New Beauty products and magazine, I couldn't track down, at least in a reasonable amount of time, just what "high end products" are in their machines. It took me too long to try to find any concrete answers on their site and there was no real person to answer questions I had. This leaves me a little suspicious of what they are selling and advertising. If anyone from New Beauty can help fill me in, please do and I'll pass along the information to our readers.
The packaging of the products on their video looks like all the same brand. Is a variety of product manufacturers represented or just their own product brand?
[raw]
Barb Quinn on Google+  


[/raw]
No Comments »
No comments yet.
RSS feed for comments on this post. TrackBack URI
Leave a comment