Haircuts for Men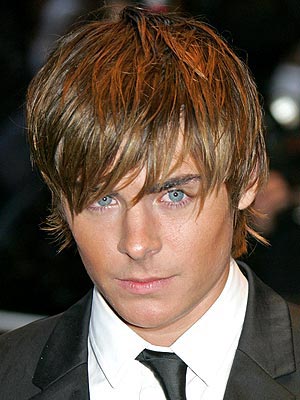 Haircuts for men — consider face shape
We have all noticed that haircuts for men have been changing somewhat dramatically over the years. Gone are the days when you only see women peaking out behind foils and weaves at the salon. Nowadays they are giving up their chairs to more and more men. Men have been taking a more eager approach to hair styling thanks to the constant reminder of hair fashion across the big screens.
Male stars have been gracing pictures with their up-to-date coifs, leaving the rest of the average Joes to go and get a not so average hair cut. I think this new generation is fantastic! I mean it is about time that men start putting in the same effort to looking good as women have been doing forever. So if you want to hop on board to getting more dates or clinching a great first impression, read on to find out how to get the best hairstyle for your face shape.
Haircuts for men shouldn't be a cookie cutting ordeal. If you want a great look, your face shape needs to be taken into consideration before just getting it . . . cut off. Face shape is the starting place for a great haircut. What you hope for when you visit a barber shop toronto (if you live in this area of Canada) is that you build a good relationship with the barber and even if you have no idea what hairstyle you want, the person cutting your hair will be able to give you a hair cut that complements your face shape! The same should go for whatever barber you visit. Once you have determined the face shape of a person then you can go on to designing the best style for them. Generally we think of round, square, oblong/long, oval, and heart when thinking of face shape; for men it is pretty much the same except with a more pronounced jaw line and stronger features the shapes change slightly. Men are generally: round, square, rectangle, triangle, or pear shaped.
Pick a Shape

Round Jack Black-The ultimate round face shape
Round ~~ A classic round face with men tends to show up on an older or larger built man. A round face can also come from a young man that still has a little bit of baby charm to shack. With a round face you want to lengthen and slenderize the width of the face. The lines and sections of the hair should create depth and length from the eyes to the chin. Allow for the haircut to frame the face, if you want it short keep it close to the face but add a little height at the crown to give a visual of length. When you want to have a tad more hair to play with, really texturize the ends and work in a more layered cut to keep the eyes moving up and down the shape and not side to side.
Square face shape ~~ The square face is the most tricky in my book . . . unless you are Brad Pitt. A large number of men fit into this category; however, the square can be one of two shapes. There is the perfect square and the in between square-triangle. This shape is complimented best with a clean cut over the ears style. Even though the hair is short make sure to sauce it up with stronger side burns and lots of texture in the ends, work through a strong styling wax so you can see the dimension in the cut.
Triangular Face Shape ~~ Out of all of the face shapes having a triangle is pretty rare, most men are boarder line square triangle. A face shape that has such severity in the jaw is best complimented by cropping the haircut. Make sure the hair is close to the face, avoid spiky do's that add length, and it's not a bad idea to add some flattering facial scruff
Rectangular face shape ~~ Unlike women, men can have a hard time balancing a long face shape. It is always a good idea to work some facial hair into your style. Sideburns and a hint of over grown shadow, or even a goatee works wonders for this face shape. Work in lots of layers to this cut, add fullness to the sides and leave the hair longer or down at the forehead to shrink the length between the eyes and chin. Hats are a great accessory to add too, for interest and balance.
The Pear or Diamond face shape ~~ A pear or diamond shaped face is almost the opposite of the other shapes. The jaw line with pear shapes tends to be wider than the upper part of the face and with the diamond you can get a slight point to the chin. Diamond shapes really need to balance the width in those cheeks by adding fullness behind the ears. A haircut with a fuller fringe works miracles for those of you with pear face shapes. It adds volume through the temples which balances out with the fuller jaw line. Try to always keep the hair a little longer at the temples, if it gets too short there, it can make this face shape too pointed through the top.
C'mon guys join the ever growing wave and become knowledgeable on face shapes and consequently on the different options you have for great looking haircuts. The new haircuts for men today fit a wide range of personalities and lifestyles. Don't settle for a cookie cutter hairdresser, find one that will give you great options. I know trying new things can be scary, but I promise this is one thing that can change your life. Us gals do it to give you something nice to look at, so guys now it is your turn to repay the favor.
2 Comments »
[…] post Haircuts for Men appeared first on The Hairstyle […]

Pingback by Haircuts for Men – Get Your Hair Did — February 26, 2017 @ 10:01 am

Quite frankly, the face-shape isn't so easy for most people to determine. In the above article there's not much difference between Jack Black's shape and 'ol Brad.

(btw on a side note, Brad could get his hair cut by an blind, autistic, fingerless chimpanzee and everyone would think it was FAAAAABulous…. hate you brad. bastard.)

I still can't tell what my shape mine is. I think it's "face" shaped. Sort of oval but squared a bit at the bottom and ractangularly pearish toward the vertical center.

Don't tell me my hair style should be a faux (sp) hawk because I won't acknowledge it as a valid hair style. it's gay.

Comment by perceptive — November 25, 2008 @ 2:21 pm
RSS feed for comments on this post. TrackBack URI
Leave a comment