Lindsey Vonns Long Layered Hair Style a Winner!
Long layered hair style perfect for Lindsey Vonn
Lindsey Vonn's long layered hair style reeks classy sophistication on this two-time World Champion! What could be more delectably feminine than long blonde softly face-framing layers on a fiercely competitive gal like Lindsey? It almost seems like an oxymoron . . . and that's one reason she is the 'darling,' the poster girl of the 2010 Vancouver Olympics.
OK, I'm looking for some reason to put up a post on Lindsey Vonn. There are plenty of us in her hometown of St. Paul/Minneapolis who will be vigorously cheering on our poster gal this weekend. Every kid who has hit the slopes of "Buck Hill," in the Minneapolis suburb of Burnsville, where Lindsey got her start, will be holding on to the seat of their pants, (no pants on the ground) in anticipation.
Lindsey Vonn is arguably the all time world's best woman alpine skier with two consecutive World Cup wins in 2009 and 22 World Cup wins on her resume! She has been on ski's since the age of 2 and has spent over 20 years perfecting her talent in this sport! She is in pursuit of 5 gold medals in the 2010 Vancouver Olympics starting this Friday, February 12th. She will first compete in the ladies combined downhill on Valentine's day February 14th.  Jim Tracy, a United States ski-team coach, described the first time he saw Vonn ski. "She's hauling down the mountain, her skis probably going 60, but the rest of her was hardly moving. It was like watching water flow down a hill."
But, back to Lindsey Vonns long layered hair style, since that's what hairstyle-blog is about . . . the question comes to mind, what does a beautiful world-class athlete do with her hair? Her hair style needs to be functional first and foremost. For any athlete, a hair style needs to stay out of the face when practicing and competing and it needs to be quick and easy to style. Lindsey shared recently that she spends 6 to 8 hours a day in the gym preparing for the Olympics . . . that doesn't leave much time for fussing with hair!
For Lindsey a long layered hair style is perfect because it does both these things and it's so versatile. She can pull it out of her face, into a ponytail or bun, for practicing and working out and put a cap on it as she is often seen doing out and about. For a head turning bouncy, feminine look, a long layered hair style can be curled using hot rollers, curling iron or velcro rollers. Long layered hair styles can also easily be converted into a variety of updo's.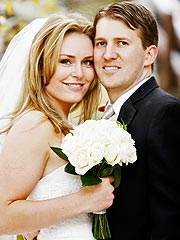 Lindsey marries Thomas Vonn 9/29/07 Lindsey is a class act, everything we could hope for in our top athletes. We wish her success in the 2010 Vancouver Olympics!!  She is a fearless competitor who has worked, like world-class athletes work, towards her dream. Here is an excerpt from an article from Bill Pennington, a sport reporter for the N.Y. Times writes, from an interview he did with Lindsey;"Vonn is not naturally introspective. But when I asked her how she has managed to perform successfully under pressure in recent years, especially since stress seemed to undo her in the past, she paused. "Athletics at the highest level is a sport within a sport," she answered, looking at the ceiling. "When you're young, you develop ways to win, and you think they will always work, but then you get to the top, competing against the other top athletes, and sometimes things don't work. You go home and ask yourself what went wrong, and for me the answer was that I didn't have enough confidence in my preparation, and I didn't have enough trust in myself.
"So now I know that I've worked harder and prepared myself better than anyone. And I have put things in place. I have a race routine. I have a team of people helping me. I have winning habits. I believe in myself. I have balance in my life. In the end, it's a mental maturity to let your best come out."
[raw]
Barb Quinn on Google+  


[/raw]
No Comments »
No comments yet.
RSS feed for comments on this post.
Leave a comment