Picture Yourself With Fergie's Braids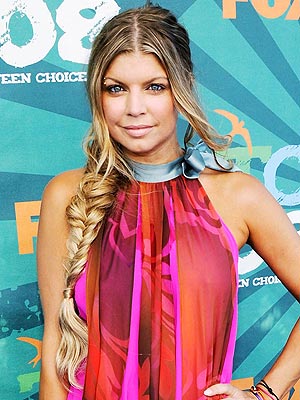 Fergie Pictures with her Bohemian Braids are everywhere
Take a look at the picture of Fergie's awesome side hanging braid, that she wore to the Teen Choice Awards. Isn't she stunning! She possessed a classic Bohemian hairstyle with her gown and her thick, fishtail braid.
"Fergie's awesome side hanging braid"
Starting with a center part and a low pony tail at the nape of her neck, Fergie's own hair is wrapped around extensions and braided in the fishtail style. There are two pieces of hair in the front hanging in face-framing curls. The braid hanging over her shoulder looks great with her gown's halter neckline. I love seeing her in that braid, it's such a beautiful way to retrain hair and add dimension at the same time. The long side braid has accompanied many evening gowns down the red carpet this year!

The act of braiding is an art form that has been passed down through many generations. The more you braid, the better you will get at it, remember practice makes perfect! It's always best to braid hair when it's dry. When you braid wet hair it shrinks and dries tightly to the head, causing tension. This tension can cause breakage and hair loss. So remember to blow dry your hair before braiding!
You can create a fishtail braid like Fergie's picture above for yourself. First, start with a pony tail to gather your hair together. Then separate the ponytail into two halves, take two strands from the outside of each half and pick up a piece of hair as you cross the strands over each other. Repeat and work your way down until you reach the end of your braid, then secure it with an elastic band. If you want, you can wrap a piece of hair around the elastic band to hide it. It's easier to do on dry, one length hair, but you can also braid layered hair if you use some smoothing gel on it.
As a hairdresser I think her bohemian braid was an awesome choice. Hopefully, Fergie's braid will encourage more fun and trendy looks for long hair.
For more great braid ideas and to stay current with what is happening with the celebs check out our Pinterest Braid and Boards.
No Comments »
No comments yet.
RSS feed for comments on this post. TrackBack URI
Leave a comment