15 Short Bob Hairstyles – Not to Miss!
These adorable short bob hairstyles will make you want to cut your hair!
There's no hairstyle that will invigorate your spirit more, or make you feel younger, than the short bob.  Short bob hairstyles are super cute, easy to manage, versatile and there's a bob style to suit everyone!  If you're the edgy type, try a choppy bob, or an asymmetrical cut. If you are leaning toward something more casual with a hint of sophistication, opt for a short layered bob, or a stacked bob. Your options are practically endless. Why is it so many women have trouble cutting their hair shorter anyway? Take a look at our newest short bob hairstyles for some inspiration.

Stacked Bob Hairstyles
The stacked bob is a perfect example of these styles resilience and flexibility.  This look flatters all face shapes and it ooozes a modern chic vibe.  The smooth, polished look is super easy to get for gals with straight or slightly wavy hair.  Hair that has a more determined wave or curl pattern will do much better with layers that allow the curls to flourish.  Layering this bob will cut styling time to a minimum and that equates to healthier, shinier hair.
Super Short Layered Bob Hairstyles
Carey Mulligan puts a whole new spin on short haircut ideas with this adorable look!  By creatively infusing a twisted bang with a couple of mini-fishtail braids up top, this short bob hairstyle is totally transformed.  This look stirred up a whirlwind!
Asymmetrical Bob Hairstyles
The asymmetrical bob is characterized by one side of the hair being longer than the other.  In most cases, the asymmetrical haircut leaves the long side of the hair falling near, or just past the chin. This look carries a certain flair for style – definitely a good option for those who are fashion forward!
Short Blunt Bob Hairstyles
Agyness Deyn and Katie Perry radiate a classic vintage style in these short and sweet bob hairstyles. The look Katie is wearing is a good choice for women with oval, round or square shaped faces, as this length elongates the face. The short blunt bob Agyness has is best for oval, oblong and square faces. These styles make the neck appear longer, for a statuesque look.  Short blunt bob haircuts are a great choice for women with fine hair, as the bluntness of the cut creates the illusion of thicker hair.  Women with fine hair love this cut!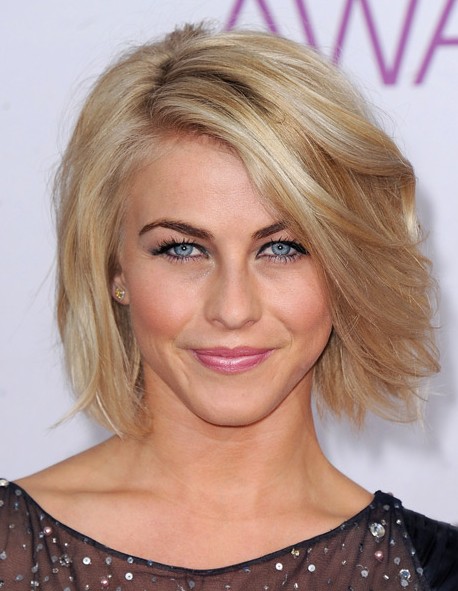 Short Bob Hairstyles with Choppy Layers
Choppy layers is a great way to introduce more texture and edginess to your bob, or any short hairstyle for that matter. This cutting technique creates volume, movement and texture to the hair. Cutting irregular layers into the hair allows for more styling options and definitely more attitude.  These styles suit all face shapes. Take a bit of inspiration from Julianne Hough and Katie Holmes!
Short Bob Hairstyles with Side Swept Bangs
Side-swept bangs can be worn spikey and long, smooth and sweet, or any other variety of ways you can come up with. Rhianna and Nicole Richie's side swept bangs look seriously chic coupled with a short bob haircut.  Adding bangs is a great way to shorten the look of longer faces while drawing attention to the eyes.
Edgy Short Bob Hairstyles
Some girls just need to appear more complex, and a short edgy bob hairstyle will always do the trick!  Why? An edgy bob mixes the classic with the bizarre, for head turning results. Sharp asymmetrical blunt-cut bangs are the focus point of this cut; add to that an asymmetrical short bob with unconventional chipped edgings, and you've got a recipe for pure avant-garde style!
For more great bob hair style ideas, check out our Pinterest Bob Hairstyles board.
No Comments »
No comments yet.
RSS feed for comments on this post. TrackBack URI
Leave a comment