Bob Hairstyles: Are They For You?
Halle Berry's new Bob Hairstyle on Vogue's September Cover
Celebrity hairdresser Oribe can't help himself lately when it comes to recreating bobbed hairstyles! Last month it was Scarlett Johannson who debuted an altogether new long bob hairstyle Oribe created and now it's Halle Berry wearing a new head-turning short bob hairstyle!
Love these chic new bob hairdo he created for Halle Berry's cover shoot on Vogue's September issue! Halle has never been one to shy away from changing her hairstyle and this shorter bob haircut with bangs looks marvelous on her.
Oribe said the clothes for the shoot for the September issue of Vogue, inspired him to go with this look with flat, straight hair with soft, moveable bangs.
Get the look:
You want to create the smoothest, flattest look you can so put your volumizing products aside for the moment. Blow dry smooth, use a smoothing serum if needed. Spray with a thermal protecting spray and smooth with a flat-iron.
We first saw these new long shattered bob hairstyles on Scarlett in the end of July. I have to admit, it's not my favorite, but it is a new and unique bob hair cut with its tattered, uneven ends. Oribe seems to have started something here when you look at the following celebrities who have jumped on the band-wagon with the new bobs.
Who can wear these styles?
Oribe says it can look good on everybody. He says you can adapt the layering to fit your specific hair texture. If you have wavy hair he suggests cutting this less jagged so the line is still left strong. The back is cut slightly shorter than the sides.
Get the look:
If your hair is naturally wavy, just let it air-dry. You can use a volumizing spray or root lifter to add fullness like; TIGI Catwalk Your Highness Root Boost Spray
If you have straighter hair, Oribe suggests using a volumizing spray and drying hair upside down without a hair dryer . If you want more curl, use a curling iron from the mid-shaft of your hair and leave the ends out. Leave some straightness to the hair to make it more modern. Here is another celebrity who just recently took the plunge into the new look.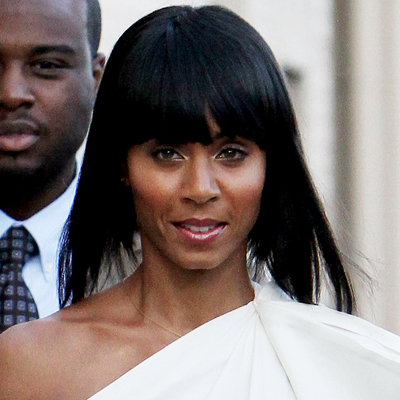 Jada Pinkett Smith's new bob hair style with bangs
[raw]
Barb Quinn on Google+  


[/raw]
2 Comments »
Love Scarlett's hair, sexy look for her. Jada's bang's are too thick for her face, Brittany's is nice like heaps of others (no real wow factor) and I'm dying to get my scissors into Maggies to layer the interior more, too bulky in the middle! Selma suits her style but not for everyone. So Scarlett wins, very hot and edgy!!

Comment by Alana Nelson — September 23, 2010 @ 1:26 am

Scarlett's hair looks good :)

Comment by gabby — August 21, 2010 @ 10:16 pm
RSS feed for comments on this post.
Leave a comment