Auburn Hair Color of the Celebrities!

Virtually all can wear auburn hair color!
Kristen Stewart, (Twilight) showed up with an auburn hair color last night on David Letterman. She was there to plug the newest Twilight saga "Eclipse," and looked rather stunning with her new auburn hair color. A change of hair color does her well and auburn hair color was the key.
"Auburn Hair Color, a Classy Look on Most"Actually, auburn hair color is a hair color that works for nearly everyone! To make it work, it's a matter of matching the tone of the hair color (the shade darkest to lightest) and the balance of cool or warmth with the skin tone.
Auburn hair color is a blend of red and brown. The color can be mixed to take on more brown than red tones or vice versa. Also the brown can be in the cool tones (ashy, chocolatey) or warmer tones like (chestnut, golden brown.) The same is true with the red hair color used; it can be cool (burgundy) or a warmer red like (tomato?) Also the depth or level from light to dark auburn hair color varies to give auburn hair color its distinct look.
The auburn hair colors on these celebrities show a wide range of warm and cool tones from light to dark. I think all these stars look great with an auburn hair color and they have a multitude of different skin tones . . . what do you think?
Amy Adam's light auburn hair color
Ashley Simpson's deep auburn hair color
Lindsey Lohan's light auburn hair color

Nicole Kidman's light auburn hair color

Debra Messing's deep auburn hair color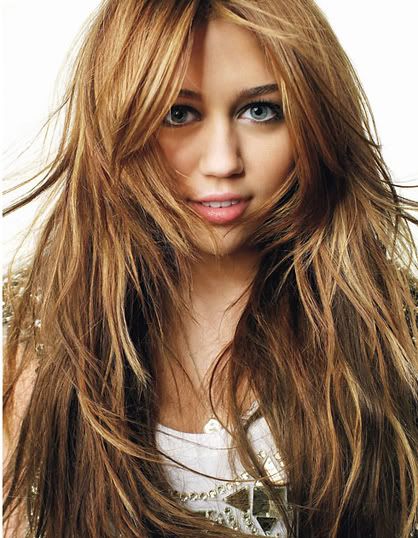 Miley Cyrus, light auburn hair color

Jennifer Lopez's light auburn hair color
Julia Roberts deep auburn hair color
For more great hair color ideas check out our Pinterest Hair Coloring Ideas Board and Pinterest Celebrities Board
[raw]
Barb Quinn on Google+  


[/raw]
1 Comment »
THE color used to be blonde. I guess it changed because, like you said, the auburn color is so universal. I like it better anyway.

Comment by Best of Beehive — July 1, 2010 @ 9:22 am
RSS feed for comments on this post.
Leave a comment