Homecoming Hairstyles for Curly Hair
Homecoming hairstyle tips help to define your curls!
After a lifetime of fighting with their natural curls, curly girls everywhere have made a turn to start embracing their curls instead of continuing the battle. Thanks to a big curl comeback on fashion runways and the red carpet events of Hollywood, we now have more homecoming hairstyle tips and products for curly girls than ever before!
Big, curly hair can look messy and dry or strikingly beautiful as a homecoming hairdo! The key is in knowing how to manage your type of hair because not all curly hair is the same. There are plenty of good curly hair products on the market to help, but you need to identify your hair type before you can give it what it needs. Curly hair is naturally dry and needs lots of moisture and deep conditioning treatments to give it shine and definition. A seasoned hairdresser is your best bet for helping you to determine the best curly hair products for your hair type.
The trend with curls now is 'big and undefined," says Ouidad, who in the industry is known as the Queen of Curls. She also says that curly girls have an advantage for another hot trend for homecoming hairstyles . . . hair accessories. "Curly hair provides lots of bedding to hold hair accessories." So with curls you have many options and can get splendidly creative!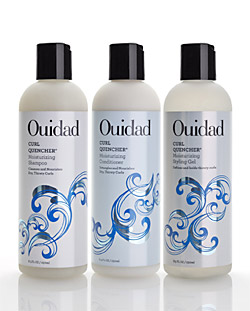 Hairstyling Tips – Drying Curly Hair
The Right Tools
Hair dryer- A hair dryer with 1400 watts is a good choice. You don't want to blow the curl out of your hair.
Diffuser- A diffuser will allow you to use a hair dryer without creating a frizzy mess. It disperses heat over a larger area to set in the curl rather than blow out the curl.
The Right Hair Care Products
Conditioner – Use a moisturizing conditioner like Ouidad Moisturizing Conditioner.
Gel – A gel, like Ouidad Heat and Humidity Gel, will define your curls!
Finishing spray – Ouidad Styling Mist and Holding Spray sets your hairstyle in place.
The Right Finish
Pomade – Rub a pea size drop between palms and distribute though the hair. This will break up any crunchiness. For more volume, flip upside down and dry your hair with hair dryer and diffuser in a circular motion at roots only.
[raw]
Barb Quinn on Google+  


[/raw]
1 Comment »
I think curls are much more interesting than straight. Everybody wants straight hair, so it's become boring. I say curl it up on those Homecoming Hairstyles!

Comment by Best of Beehive — September 17, 2010 @ 10:01 am
RSS feed for comments on this post. TrackBack URI
Leave a comment