Crop Hairstyles, the Hottest New Short Hair Styles
About Crop Hairstyles, Corinne asks:
| | | |
| --- | --- | --- |
| " | I've heard the name, "crop haircut," as a name of new short hair styles that are cute, quick and easy. I remember this name for short hair styles back in the 80's. Who wore the crop haircut back in the 80's?  Who is wearing these new short crop hairstyles now? | ,, |
The most famous celebrity that comes to mind, who wore crop hairstyles new short hair styles some 20 plus years ago, is Princess Dianna. Princess Di developed an impeccable style, of which her hair, of course, played a big part.

Princess Dianna personified new short hair styles we know as the "crop hairstyle"
What defines crop hairstyles is one that heavier layered on top and tapers short on the sides and back. Like any new short hair style that makes a return debut like the shag or the bob, when it does return for a new run, the designing hairdresser will give it a new signature.
Rihanna's new short hair style is a crop hairstyle and was voted the winner of "Best New Short Hair Styles," by Elle magazine. Rihanna started a new short hair style trend for the popular short crop hairstyle, that has proven the test of time. Quick and easy to style, makes it even more desirable to fashionistas and women who don't have the time to putz with styling their hair every day. What's not to like? Use a flat iron to direct the fringe forward with a deep side part. Finish with a texturizing balm like, Aveda Control Paste
, to add piecey spikes.

Agyness Deyn's "Aggy" cut is a crop hairstyle

Super model Agyness Deyn wears crop hair styles so well, this hair style was also in hair styling circles as the 'Aggy" hair style. With her platinum hair color and highly texturized layers, Agyness Deyn's crop hair style cut gets another signature of its own. To style, work in a mouse and simply brush forward from the crown giving the fringe a side-swept direction without showing a part. Shine it up with a product like, Paul Mitchell Shine Drops
for extra bling!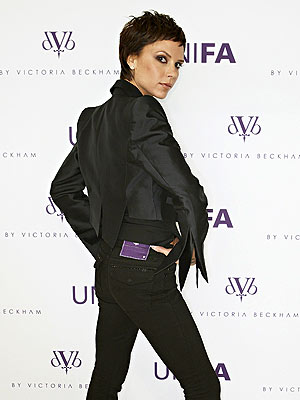 Victoria Beckman's pixie cut or crop hair style
I call this a pixie haircut, which also has been around forever . . . remember Mia Farrow, in Rosemary's Baby, but some call this a crop hairstyle as well. Never-the-less it fits the category of a short-n-easy hair style.
"Crop Hairstyles
are Back"This sort of short hair style doesn't work for everyone. It looks fabulous on Victoria Beckham. It was a great new short hairstyle to move into after her famous 'inverted bob short haircut.'  It looks best on women who have a petite bone structure and who have a good sense of self. Small, well proportioned features get a big boost with this short hair style.
But if you are on the shy side, this hair style isn't for you. Hair this short can make you feel 'exposed' and leave you feeling wide open for scrutiny.
[raw]
Barb Quinn on Google+  


[/raw]
3 Comments »
We use a WordPress plug in called Custom Contact Forms

Comment by Paul Lynn — October 22, 2012 @ 11:56 am

Hello there! I know this is kinda off topic but I was wondering if you knew where
I could get a captcha plugin for my comment form? I'm using the same blog platform as yours and I'm
having trouble finding one? Thanks a lot!

Comment by jillgod.pixnet.net — October 21, 2012 @ 9:18 am

I loved the short bob hairstyles when they started several months ago. They looked very feminine and stylish. These latest shorter crops and pixies don't appear very feminine and I think there is a 'stylish' race going on with celebrities today to get the latest look. Am I the alone in thinking these celebrities have clipped their hair one too many times?

Comment by Perriann Rodriguez — October 21, 2008 @ 8:19 am
RSS feed for comments on this post.
Leave a comment