Katharine McPhee Hair Color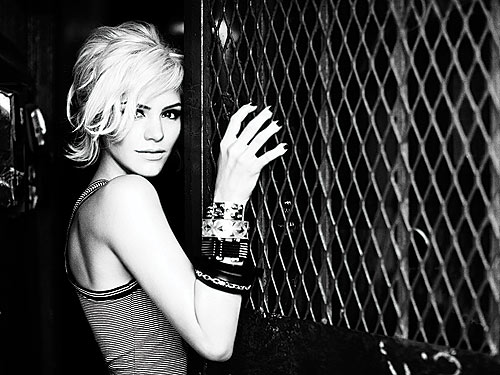 Katharine McPhee Goes Blonde and Rocker Style!
Brunette by nature, 25 year old "American Idol" alum Katharine McPhee, changed her hair color to blonde recently. In an interview with People magazine, McPhee said that she changed her hair color to promote her new album. She says the album is 'adventurous' and she wanted a hair color that would match that theme. Well I'd say she sure accomplished that by going from brunette to platinum blonde! She went on to say that this is the first time she had ever colored her hair but she had been contemplating it for some time.
"Katharine McPhee
Hair Color"Katharine McPhee says she changed her hair color to promote her new album . . . well, of course she did! What better way to create a buzz about something than to do something so drastic as completely changing your hair color and hairstyle?  Katharine says, "The look has affected the way I dress, it's inspired me to be more adventurous in what I wear. It's silly that something as simple as changing your hair could have such a big effect."
Katharine's  new album, "Unbroken" is due out October 6th and I am very curious to see if  this hair color will last through the release. For those of you who are shocked by the new cut and hair color  and might not recognize Katharine, here is her old hair color to refresh your memory: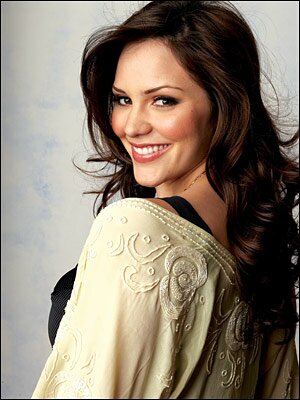 Katharine McPhee in Natural Brunette Hair Color
Personally, I have to say that I prefer Katharine McPhee as a brunette. As a professional hairdresser, I don't feel that her blonde hair color is good for her skin tone or with her eyebrow color. Her brunette hue was so stunning, so rich and so healthy looking that I would have never fixed what wasn't broken. I also cringe to think of what she has to face in two weeks with her regrowth!  A brunette myself, I envied how shiny and decadent her hair color was, but, I guess I can see how the appeal of promoting a new album caused her to transform her signature shade.
Are you a fan of Katharine McPhee's? If so, what do you think of her new blonde hair color and her new hairstyle? We'd love to hear you weigh in on the new blonde 'do! And to stay current with what is happening with the celebs follow our Pinterest Celebrities Board.
2 Comments »
I cant take my eyes off the fact that she dyed her hair blonde. Yes, it gives her that diva thing and puts her with all those singers blonde, but at the same time maybe it takes away some uniquness of her beautiful brunette hair. So sexy as the blonde color is she really makes such a stunnin brunette and I hope she goes back to that eventually!

Comment by M fosber — October 8, 2009 @ 2:40 pm

I agree when you mentioned the "hue" color was of her natural hair, it was so beautiful! You're right, you can't fix what isn't broken.

I prefer the natural Katharine Mcphee. Hate the fact she CUT her hair as well. All off. Hopefully she will dye it back and perhaps get some extensions to at least go back her to natural appearance again.

Then again…she is in the entertainment industry and entertainers are always pressured to alter their natural appearances for commercial sake. I hate that's the way it is-but that's the way it is!

Comment by Heather — August 18, 2009 @ 8:28 am
RSS feed for comments on this post. TrackBack URI
Leave a comment