Most Popular Summer Updos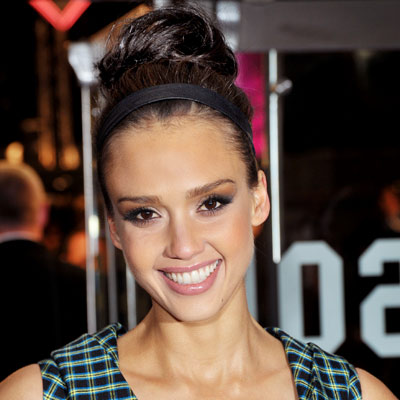 What face shapes should NOT wear these summer updos?
The ballerina bun – comes up on top of the most popular summer updos list of 2010. At least that is what Hollywood would have you believe. If you've watched any of the red carpet events in the recent past, you've seen a barrage of updo buns!  Sometimes extreme, this summer updo isn't for everyone.
"Cool Summer Updos"Who can wear it? This summer updo is especially striking on women with oval or heart-shaped faces and superb bone structure. Think Angelina Jolie, Jessica Alba, Jennifer Lopez and the like.  Although you don't need the 'perfect' face shape to wear this hairstyle, keep in mind your face is 'out there' on three-dimensional display.
Who shouldn't wear it? How do I say this? If you have disproportionate features, such as large or uneven ears, a large nose, chin or forehead, you may want to think twice about the ballerina updo bun. It's hard to be objective about ourselves and usually we will see more faults in our looks than others will see. If you want to wear this style but are unsure if it works for you, try it out and ask a trusted friend to give you an opinion.
Hayden Pantierre
Christina Applegate
Janet Jackson
Scarlett Johansson
To style the slicked back ballerina bun – One length hair is a must or, at least you will need long enough layers to hold in a bungee without short pieces falling out! This look is all about a perfectly smooth and polished finish with a beautiful sheen without a greasy look. On wet hair, use a gel like TIGI Catwalk Your Highness Thickening Gel Creme
, Brush hair smoothly into a high ponytail and use a comb to smooth hair evenly into a bungee. Twist pony and wrap around the base of the ponytail. Tuck ends under and use bobby pins to secure. Lightly mist with a finishing spray and smooth down any flyaway ends.
A more casual popular summer updo is the low bun or the high bun with softness built-in. More women can wear this type of bun because wispy pieces or height built into the hairstyle will balance and soften different face shapes.
Who can wear it? Almost all face shapes can wear this if styled with a sense of balance. For instance a longer oblong face shape could wear the bun low and full at the nape to add weight and width to the face. A round face shape could wear a high bun to add height and some wisps at the nape to add a sense of length to the face.
The ballerina bun summer updo can be worn extremely smooth and sleek or more wispy and whimsical to suit your mood. For more great looks check out our Pinterest Wedding Hairstyles, Prom Hairstyles and Braid Boards.
1 Comment »
Great post. I think a lot of people forget about trying to see if the updo is appropriate for them. I think most can get away with some sort of updo, but there are different ones that work better than others.

Comment by Best of Beehive — June 21, 2010 @ 9:08 am
RSS feed for comments on this post.
Leave a comment