Winter Hairstyles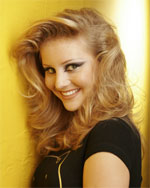 Winter Hairstyle Trends Are Always Predicated on Eye of The Beholder
Hair care routine is really important this time of year as attested to by this winter hair article at Visual-Makeover. Watching the articles that are intended to give us some La-Dee-Da! hairdressers opinion on what's going to be the hot winter hairstyles can be down right humorous. They are not consistent at all as a matter of fact none of them are predicting anything remotely close to one each other.
"Winter Hairstyles Predictions are all over the map"
For example back a few days ago I wrote a winter hairstyles article which predicted powdered hair and a few days before that I wrote a similar winter hairstyles article which predicated long, sleek, slick, and straight. Now comes this from Shorthair.com that predicts Long, voluminous tresses, short bobs and get this, the Jackie Onassis Beehive winter hairstyle. How's that for being all over the map.
I wouldn't worry about what is in fashion, by the time you figure it out, it's already too late, and you'll look behind the curve. Just get a great looking winter hairstyle that works just for you and make it your classic.
"

Fall and winter are normally the seasons for rich, dark hair colors, but blondes can have fun too with color technique like "minking".

Popular with the younger generation, minking involves putting vibrant high lights on the under layer of hair so it peeks out through the top layers to create a dramatic, attention-getting effect.

,,
Read the entire article, New Winter Hairstyles and Latest Hair Color Trends for Fall – Winter and For more winter hair ideas check out our Pinterest Winter Hair Tips board.
No Comments »
No comments yet.
RSS feed for comments on this post. TrackBack URI
Leave a comment